Get inspired and immerse yourself in the holiday spirit with these easy DIY Christmas wreath ideas for your front door. From rustic charm to glittering glam, there's something for every style and budget. Let these ideas ignite your creativity and craft your way to a joyous holiday season!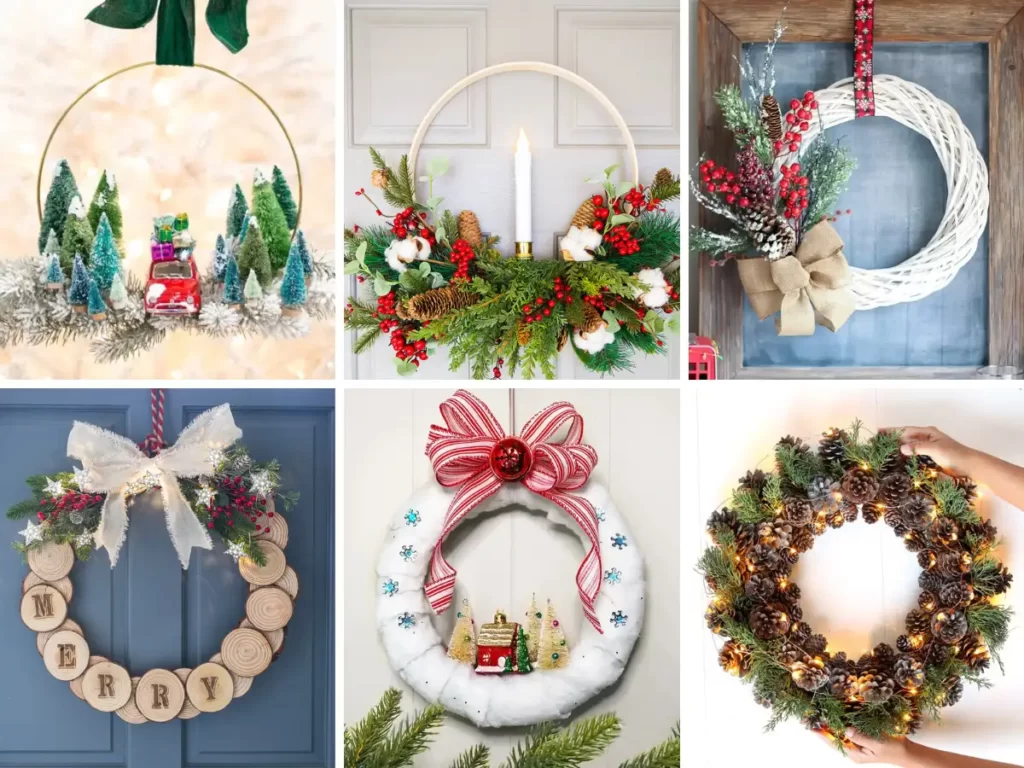 (This post may contain affiliate links. That means if you purchase an item through these links, I may earn a commission at no additional cost to you. Please read the full disclosure policy for more info.)
There's just something about a beautifully adorned Christmas wreath that instantly makes your home feel cozier and more welcoming during the holiday season.
You don't have to be a crafting wizard to create stunning wreaths that will leave your guests in awe. Transforming simple materials into incredible Christmas wreaths that add a touch of magic to your home is easier than you think.
There are so many ideas to create DIY Christmas wreaths and decorate your front door, such as rustic burlap wreaths or a glamorous, sparkling wreath that dazzles in the winter sunlight.
The possibilities are endless, and the joy of crafting your holiday decorations is immeasurable.
And the best part? Many of these Christmas wreaths are budget-friendly! You can craft your beautiful wreaths using readily available supplies, some of which you can easily find at your local dollar store.
Whether you're a seasoned DIY enthusiast or just getting started, this DIY Christmas wreath crafting project collection will spark your creativity.
Here are 20 easy DIY Christmas wreath decorations that will transform your home into a festive wonderland!
Easy DIY Christmas Wreath Decorations
So many ideas to create your next Christmas Wreath!
Definitely, crafting your Christmas wreath is a beautiful way to add a personal touch to your festive decor.
I hope this collection of Christmas decoration ideas has sparked your creativity and filled you with excitement for the upcoming holiday season.
Send me an email or let me know in the comments if you've tried any of these easy DIY Christmas wreath decorating ideas!
Here is some information on how to make budget-friendly DIY Christmas Wreaths
What are some affordable materials I can use for DIY Christmas wreath decorating?
You can find budget-friendly supplies at places like Dollar Tree, craft stores, and even your own backyard. Consider using artificial greenery, ribbon, ornaments, pinecones, and burlap to create a beautiful wreath without breaking the bank.
How can I add a personal touch to my wreath without spending too much?
Personalization doesn't have to be expensive. You can incorporate items with sentimental value, like family ornaments, old holiday cards, or even small framed photos into your wreath for a meaningful touch.
How do I ensure my DIY wreath lasts throughout the holiday season?
To prolong the life of your wreath, store it in a cool, dry place when not in use, and avoid exposing it to direct sunlight or harsh weather conditions. Proper storage can help preserve your creation for future holiday seasons.
I'm not very crafty. Are there easy DIY wreath ideas for beginners?
Yes! There are plenty of simple wreath designs that require minimal crafting skills. Try a basic evergreen wreath with a bow or a rustic burlap wreath. You'll be surprised at how easy and stunning they can be.