Finding legitimate work-from-home jobs can be a challenging task these days. A great percentage of employers look for people with a certain college degree before hiring them for a remote position.
The problem is that not everyone looking for a work-from-home job holds a college degree. Thankfully, many opportunities out there offer work-from-home jobs to help you make extra money every month—or even better, make a full-time income.
Working from home has many great benefits. It allows you to set your own schedule, travel and work at the same time, work from anywhere, avoid the heavy traffic commute, be your own boss, and more.
Whether you're looking for ways to make some extra income, change careers, find a part-time job, or simply quit your 9-to-5 job and work from home, there are plenty of opportunities that will allow you to make money while working from the comfort of your own home.
Below you'll find 15 legitimate work-from-home jobs that pay up to $100,000 + a year.
(This post may contain affiliate links. That means if you purchase an item through these links, I may earn a commission at no additional cost to you. Please read the full disclosure policy for more info.)
Legitimate Work from Home Jobs
1. Proofreader
Proofreading can be a very lucrative job where you can work from anywhere, including the comfort of your own home. As a proofreader, you'll make sure that the material you are reading is free of errors in grammar, spelling, syntax, and so on.
The approximate earnings of proofreaders are $45/hour and you can make this by working from home.
If this type of job sounds appealing to you, then I highly recommend Caitlin Payle's FREE workshop. Caitlin Pyle is a professional legal transcriptionist and has been a very successful proofreader for several years.
In her free workshop, Caitlyn shares everything about proofreading, including
How to stand out and become a great proofreader
The helpful tools available for proofreaders
How to land your first clients
How to grow an online proofreading business from scratch
2. Transcriptionist
Transcriptionists are responsible for turning audio and video files into text.
These days, there are many opportunities to work from home as a transcriptionist. Many industries require the skills of a general transcriptionist, such as academia, interviews, marketing, films, and many more. In other words, transcriptionists are required for anyone that needs audio or video turned into text.
You can learn more about transcription and how to make money with this side hustle in this free seven-lesson mini-course.
3. Bookkeeper
Do you know that you can start a bookkeeping business from home with no expertise at all? That's right, you don't need to be an accountant or have previous experience to open your own bookkeeping business from home.
Working as a bookkeeper has many benefits, including making your own schedule, working from home, earning good money, low startup costs, and more. As a bookkeeper, you can expect to earn $80 per hour.
If you'd like to know how to start your own bookkeepping from scratch, here's a link to get instant access to a FREE class that will teach you how to do it.
4. Amazon Seller
Jessica and Cliff Larrew run a successful Amazon FBA business. They make a six-figure profit as Amazon FBA sellers working less than 20 hours a week!
They offer a free seven-day course in which they explain everything you need to know to start a profitable Amazon FBA business.
The free course includes:
Why Amazon is the perfect platform for building a business.
How leveraging the fulfillment power of Amazon leaves your home free from piles of inventory.
The way Jessica and Cliff bought inventory to build a six-figure in profit their first full year.
How to choose the perfect items to sell that people want and will make you money.
What tools Jessica and Cliff use to save time and be the most efficient.
You can sign up for Jessica and Cliff's free seven-day course here.
5. Flipper
Flipping items for profit is another great way to make money from home. Melissa and her husband, Rob, started their business as a side hustle and have now made flipping items h their full-time job. In 2016, they earned $133,000 by flipping items from places like flea markets, garage sales, and auctions!
They developed a helpful course called Flipper University. They will teach you the exact strategies and steps they took to earn over $100,000 a year.
According to Melissa, the approximate earnings are $500 to $2,500 a month during the first year of flipping items. Flipper University is open during certain periods of the year. However, they also offer a FREE webinar where you can learn a lot about flipping.
If you would like to be notified of the next enrollment opening, you can get on the waitlist here. Or yuo can also take advantage of their FREE webinar here
6. Blogger
Many people don't know that you can make money from blogging. However, blogging can be a great way to work from home, make money, and support your family.
Blogging is how I make a full-time income while being a stay-at-home mom with a super-active toddler! So, yes it's possible to make money from blogging.
If you are interested in starting a blog, check out my FREE 5-day email course where I teach you all you need to know to start a money-making blog since day 1. You will learn all the necessary steps and tools needed to become a successful blogger and start making money from home.
7. Survey Taker
You can earn a great side income by answering surveys. In fact, this is how I used to make extra money in my spare time.
Many legitimate companies offer cash in return for an honest opinion. You can also make extra money by watching videos, playing games, reading emails, shopping online, and more.
Here are some of my favorite survey sites that will allow you to make money fast:
8. Virtual Assistant
As a virtual assistant, you'll work on things like data entry, content research, blog management, editing content, setting appointments, responding to emails, social media management, and more. Working as a virtual assistant is very flexible because it allows you to work around your schedule and work remotely.
If you are interested in becoming a virtual assistant, Gina Horkey—a very successful virtual assistant—has a great course: "30 Days or Less to Virtual Assistant Success." You will learn step-by-step how to become a successful virtual assistant.
You can also grab her FREE copy of 150+ services you can offer as a virtual assistant here.
9. Freelancer on Fiverr
Fiverr is an amazing website where you can sell and buy freelance work and get paid on time.
If you have a particular skill in graphics and design, digital marketing, writing, translations, videos, and more, then you can sell those skills on Fiverr.
10. Airbnb Host
If you live in a big city or a tourist area, then you can earn money by renting out your space. Airbnb is the company that allows you to rent your house, apartment, room, or even a couch to others and make money from it.
Listing your space on Airbnb is pretty easy, and here is how it works:
Create a listing. Describe your place, upload pictures, write your house rules, and set a price. Your listing will help guests get a sense of what your place is like.
Once a guest makes a reservation, you will receive a reservation confirmation along with a message from your guest. You can interact with your guest via messages so you can get to know your guests and answer any questions.
When the day arrives, your guest will stay at your place, and you'll start earning money.
Click here to sign up as an Airbnb host and start making money.
11. At-Home Daycare
Opening an at-home daycare is a great opportunity to earn money from home. Depending on where you live, you might need to fill out some documentation requirements for a license.
Alternatively, you can make money fast by offering your services as a babysitter or pet sitter. For babysitting services, use professional websites like Care.com, which is very convenient to use and advertises your services.
After you complete your profile, parents will be able to look at it and hire you whenever they need child sitting services. You can apply for Care.com here.
12. Craft Artist
If you have a crafty talent, then you can open a store and sell your skills or products through Etsy. Etsy is a great place to find unique crafty products from around the world. With Etsy, you are not limited to selling crafts—you could also sell digital products.
13. Participate in Market Research
Participating in market research is another way you can earn extra money for Christmas. There are many companies that pay for an honest opinion of products, brands or new market trends. Most of the time you accumulate reward points that you can later convert them into money via Paypal.
Here are some companies that I recommend joining: Pinecone Research, YouGov, and VIPVoice.
14. Freelance Writer
Becoming a freelance writer can be an excellent way to earn money from home. As a freelance writer, you can earn extra money by writing articles or blog posts on topics that suit your interests. New freelance writers usually charge $30 to $50 per article, and as you get more experience, your rates will increase.
If you are interested in becoming a freelance writer, then I highly recommend the course "30 Days or Less to Freelance Writing Success."
In this course, you will learn how to become a successful freelance writer in one month or less and start your own online business from scratch. Click here to learn more about "30 Days or Less to Freelance Writing Success."
15. Online English Teacher
Magic Ears is a company based in China that provides English learning experience to children 5-12-years-old in China. They're currently hiring English speakers from the U.S. and Canada to teach English.
You don't need to have previous experience or hold a bachelor's degree to start working for Magic Ears. The company provides the curriculum, and the pay is up to $26 per hour.
If you'd like to become an online English teacher and work from home, click here to learn more about Magic Ears.
Finding legitimate work-from-home jobs shouldn't be a daunting task. There are plenty of options you can try without having a college degree and with low or no startup fees.
With most of the flexible jobs listed here, you'll be able to work around your schedule, earn a full-time income, avoid transportation costs, work from anywhere, and even travel more.
The point is that if you are looking for a change, you can definitely make your dream a reality and become your own boss in no time.
Related: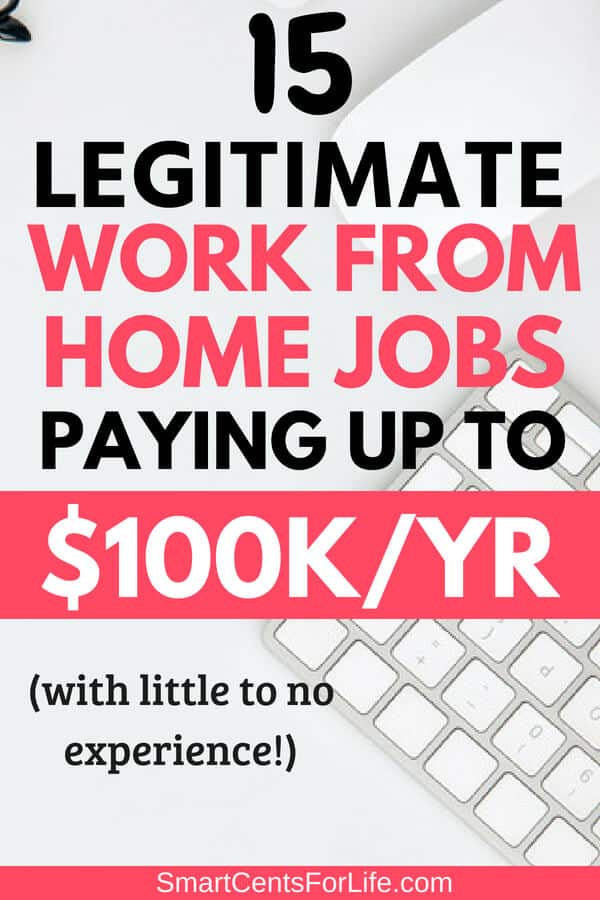 Join my EXCLUSIVE email list and learn tips on how to make, save and manage your money better!