Need a little push to help you save money? Try this 52-week money saving challenge and learn how to save $5,000 in one year!
There are many things that you can do with an extra $5,000 in savings.
This much money can serve you for so many purposes, including:
Paying off debt
Buying a new car
Setting it aside for a house down-payment
Taking a vacation
Increasing your emergency fund
Saving for college
Frankly, the possibilities of you can do with $5,000 in savings.
The thing is, how can you find some extra money for those financial goals you may have?
Here is where the 52-week money saving challenge comes into play to help you save that $5,000.
The only things you need to be successful with this money-saving challenge is a plan and commitment.
This post may contain affiliate links. That means if you purchase an item through these links, I may earn a commission at no additional cost to you. Please read the full disclosure policy for more info.
How Does the 52-Week Money Saving Challenge Work?
The process of this 52-week money challenge is pretty simple and here is how to do it:
Sign up below to receive the 52-week money saving challenge printable. (you will also get access to our newsletter!)
Download and print the two 52-week money challenge printable.
Deposit the recommended amount each week and check the box in the "Done?" column.
*Note: I recommend opening a savings account for this money-saving challenge and automating your savings every week if possible. This can be easily done by any bank. This trick will make your savings challenge easier.

Want to stop living paycheck to paycheck and save more money? Get my FREE Monthly Budget Printable and reach your financial goals!
52-Week Money Saving Challenge Printable
This 52-week money-saving challenge is doable and I will share with you some ideas you can try and reach your goal of saving $5000 in a year.
Some important things to consider:
Try to keep up with the amount indicated on the 52-week money saving challenge printable, but if you run into a situation in which you have less money on a given week, you can always choose a week that you are able to afford, and mark that week's challenge as done.

Try not to make this a habit and instead be consistent with your savings to avoid any possible sabotage of your savings plan. If you are able to afford more than expected each week, save it! More is always good!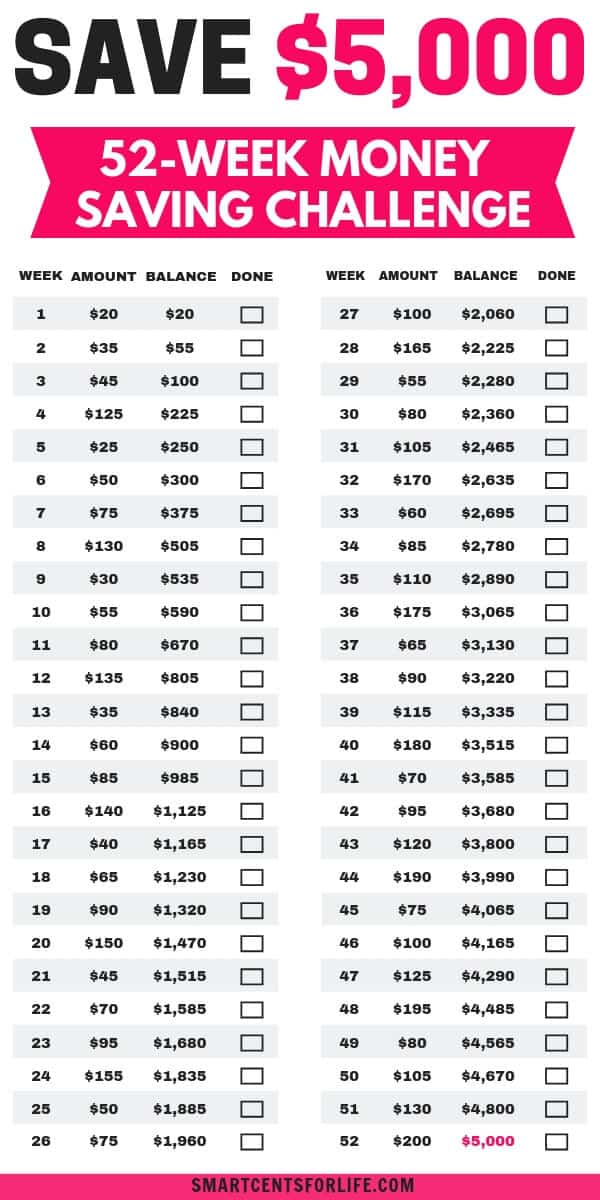 Ideas to Reduce Your Spending and Save Money
I know that saving money can sometimes be more difficult than it appears. However, with a little effort, you can put a plan into place to reduce your expenses and save money every single month.
Below I have put together a list of money saving ideas you can implement to help you with your 52-week money saving challenge.
Related:
How to Pay Off Debt Fast, Even With A Low Income
How To Build an Emergency Fund and Save Your First $1000 Fast
1. Create a Budget
This tip might be overwhelming in the beginning, especially if you had never set a budget before.
But setting a budget will help you know where your money is going every single month. Not only that, but it can also help you a lot with saving money.
A budget will also help you decide which categories can be reduced, thereby freeing up some money.
If you need help with setting your first budget or don't know where to start, check out: How to Budget for Beginners. It will show you everything to know to create your first budget.
2. Reduce your Grocery Budget
Buying groceries is an expense that we can't avoid. Regardless of how big or small your grocery budget is, there are many things you can do to help you shrink your grocery bill every month.
Plan your meals every week: Planning your meals is a great strategy to save money on groceries. Shoot for a simple meal plan that you can follow. If you need more ideas for meal planning on a budget, there are services like the $5 Meal Plan, which helps you create a meal plan every week for your whole family, and it only costs $5 per month! It's super cheap for all the ideas you get!
Make a grocery list: I don't know about you, but if I go grocery shopping without a list, I tend to overspend money on things that I won't need right away. To avoid this, I prefer making a shopping list and sticking to it every time I go to the grocery store.

Shop at Home first: This goes along with your shopping list. Shopping at home means going through your pantry, seeing what things you do or don't need, and making a list according to that. This simple trick could help you a lot with keeping your grocery bill low.

Shop Sales: Take advantage of your grocery store's sales and, if your budget allows, try to stock up on sale items. Also, you can plan your meals based on the items you find on sale and lower your grocery bill even more.

Go Generic: Buying some generic products, such as can goods, frozen meat, and beans, will help you reduce your grocery bill. Most of the time, generic brands are of the same or similar quality as brand-name products.
There is nothing wrong with buying generic brands. In fact, you will be surprised to find some generic products with fewer ingredients and that taste better than brand-name items.
Related: 11 Ways to Save Money on Groceries Without Coupons
3. Use Money Saving Apps
If you need a little help starting this challenge, then these two apps are a game changer! Small tweaks in the way you shop can make a huge difference in your savings, and these two free apps can help you with that!
I use this app to save money every time I do my grocery shopping. Ibotta allows me to easily get cash back from my purchases. You earn cashback for buying things such as potatoes, bananas, bread, and milk, things that most families usually buy when grocery shopping.
There were a couple of times when I was able to withdraw around $200 in a month. This app will definitely help boost your savings.
The great news is that Ibotta is currently offering a $10 bonus for signing upThis means free money earned for your money-saving challenge!
Click here to sign up for Ibotta and get $10 FREE as a Welcome Bonus
Rakuten is my second favorite app for all my online shopping. With Rakuten, you can save money on every online purchase!
Rakuten allows you to earn up to 10% cash back from your online purchases. There are hundreds of participating stores, including Amazon, Target, and Walmart. The best part is that there are no hidden fees and signing up for Rakuten is 100% free!
To earn money with Rakuten, simply download the app, sign up for a free account, select the store you would like to buy from, shop as you would normally, and cash back will be credited to your account. You'll also get a free $10 welcome bonus after your first $25 purchase!
Trim is a free app that will help you save lots of money. Trim can help you negotiate and lower your cable, internet, and phone bills by up to 30%. It will also check to see if you have any unwanted subscriptions and cancel them for you, saving you money.
Trim is definitely a money-saving app that is a must for anyone who is serious about saving money wisely.
Click here to join Trim for free and start saving money.
4. Reduce Your Utility Bills at Home
According to the US Department of Energy, the average American family spends over $2,000 per year on utility bills. Of course, this amount of money can be more or less depending on the area you live in, the size of your home, your resource usage, and so on.
Regardless of the amount you pay for utilities now, the good news is that you can reduce your utility bills at home. This can be done by implementing small changes at home that will make a big difference in your wallet.
Here are some things you can do to reduce your utility bills at home:
Adjust your thermostat (use the proper setting for winter and summer).
Disconnect appliances that are not in use.
Install energy saving lights bulbs.
Wash clothes in cold water.
Lower your water heater temperature.
Related: 30 Ways to Reduce Your Utility Bills at Home
5. Cut the Cord
Over a year ago, we decided to get rid of cable, and it was one of the best decisions we have made. Currently, we are using this digital antenna, which is a very low investment for all the channels we watch for free.
We also added our Amazon Fire Stick, and now we watch our favorite TV shows and movies without paying a lot for it.
Now we are saving over $100 a month and still enjoying our favorite TV programs!
Ideas for Making Extra Money from Home
If you need some ideas about how to make extra money from home and make this 52-week money challenge even easier, you'll find different side hustles and ways to earn money from home below.
Related: 9 Real Work From Home Jobs You Can Start Today
1. Online Proofreader
The proofreading field is in demand, and many online businesses, big or small, are willing to hire and pay a proofreader to review and catch anything the author missed.
In 2014, Caitlyn from Proofread Anywhere made over $43,000 working as a part-time proofreader. Today, she teaches others how to become successful proofreaders.
If you would like to know more about how to become a freelance proofreader, you can try Caitlyn's FREE 76-minute workshop where you can learn a lot about the proofreading business.
2. Bookkeeper
Becoming a bookkeeper can be an awesome way to earn a side income while in college. Working as a bookkeeper has many benefits, including gaining valuable experience and building a great resume. The average rate for bookkeepers is $60 per hour, and the best part is that you can work from home.
Here is a link to get instant access to a FREE online class on how to start your own virtual bookkeeping business.
Related: How to Make Money From Home as a Bookkeeper
3. Start a Blog
Blogging can be a great part-time job for anyone trying to make extra money. Currently, this is how I make money working from home and in my free time. After my fourth month of blogging, I was able to make a full-time income!
If you are interested in starting a blog, I've developed an easy step-by-step tutorial that shows you how you can start a blog in 15 minutes or less!
4. Teach English Online
Magic Ears is a company located in China that provides English learning experiences to Chinese children from ages five to twelve. The company is currently hiring English speakers from the US and Canada to teach English.
You don't need to have previous experience or hold a bachelor's degree to start working for Magic Ears. The company provides the curriculum, and the pay is up to $26 per hour.
If you'd like to become an online English teacher and work from home, click here to learn more about Magic Ears.
5. Virtual Assistant
Virtual assistant (VA) jobs are very flexible and allow you to work around your schedule and remotely. As a VA, you'll provide different services to clients remotely.
Depending on the client, your duties or tasks could include services like data entry, research, blog management, editing content, setting appointments, responding to emails, social media sharing, and so on.
To learn more about VA services, get a FREE copy of 150+ services you can offer as a virtual assistant here.
Other Ways to Earn Money Fast
Below are my favorite side hustles that I use to make money fast. All you need to do to earn money is complete surveys in your spare time.
Maybe you won't earn a full-time income with these websites, but they can help you earn enough money to help with your 52-week money saving challenge.
Related:
Survey Junkie (Fastest and easiest way to earn money fast)
Survey Junkie is one of the highest-paying survey companies out there, and it pays you cash via PayPal!
Using Survey Junkie is very easy, and you can log in from any device and from anywhere to start earning money really quickly. After you complete your information and confirm your email, the company will instantly send you all the surveys you are qualified for.
Register for Survey Junkie here.
Swagbucks (Get a $5 Welcome Bonus)
With Swagbucks, you can get paid for doing simple tasks, such as watching TV, playing games, or answering surveys. Using Swagbucks is free, and you can earn money really quickly, which could help a lot with boosting your savings.
Sign up for Swagbucks here and get $5 for free
MyPoints (Earn $5 FREE after taking your fifth survey)
MyPoints is a great site to make extra money from home quickly. Not only is it a cashback shopping portal, but it also pays you to take online surveys, read emails, search the web, and more.
Some of its surveys pay really well while others pay a decent amount of money. Regardless, this extra money can definitely help boost your savings.
Sign up for MyPoints here and get $5 for free after taking your fifth survey
Final Thoughts
You can definitely make this money-saving challenge possible and save $5,000 in one year by following some of the ideas above. Download your 52-week money-saving challenge printable and make this your year of saving money!