Looking for ways to organize your house on a budget? Then this post is for you! Check out these clever dollars store organizing hacks and ideas to get your home organized for cheap!
One of the things I love about the dollar store is how many amazing organizational products you can find. It's great to know that you can organize your whole home for cheap.
That is why I decided to create a roundup post of the best dollar store organization ideas. These dollar store organization ideas will show you how to organize and declutter your home on a budget!
(This post may contain affiliate links. That means if you purchase an item through these links, I may earn a commission at no additional cost to you. Please read the full disclosure policy for more info.)
15 Clever Dollar Store Organizing Ideas
1. Dollar Store Pantry Makeover
I like the idea of organizing my dry goods in these amazing containers. You don't need to spend a fortune on expensive containers. Just grab some storage containers from the dollar store, and you'll be on your way to an organized and amazing pantry. If you want the most out of your money, you can also grab these practical containers with labels included! (via the social home)
---
2. Bathroom Closet organization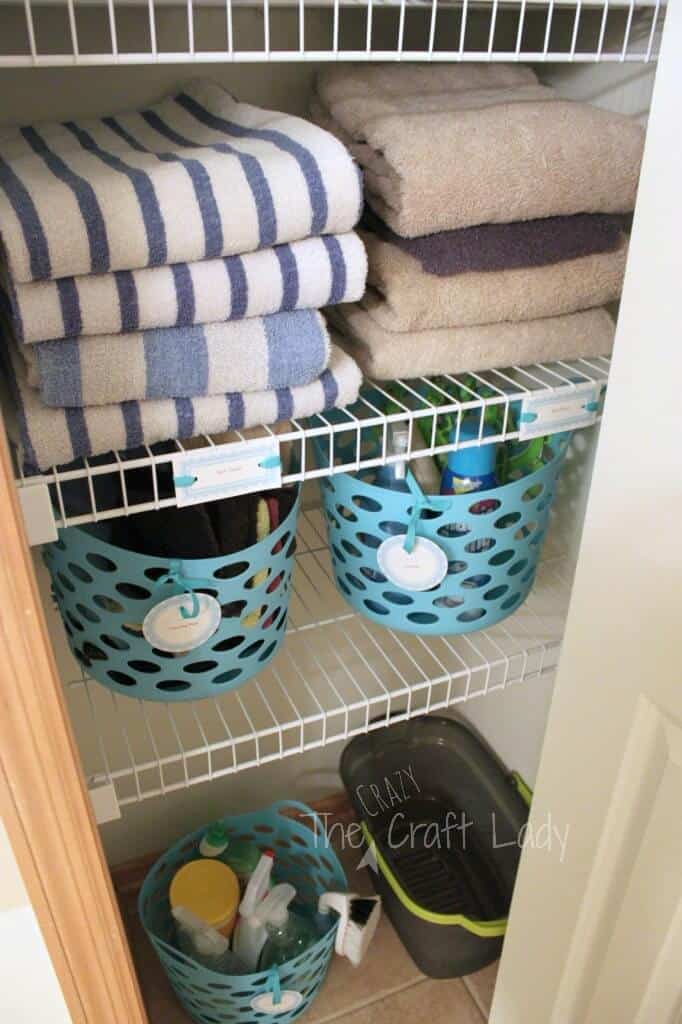 I love these baskets for organizing the bathroom closet. In this blog post, Aimee shares great tips for organizing your towels, bathroom drawers, and cleaning supplies. (via The Crazy Craft Lady)
---
3. Under the Sink Bathroom Organization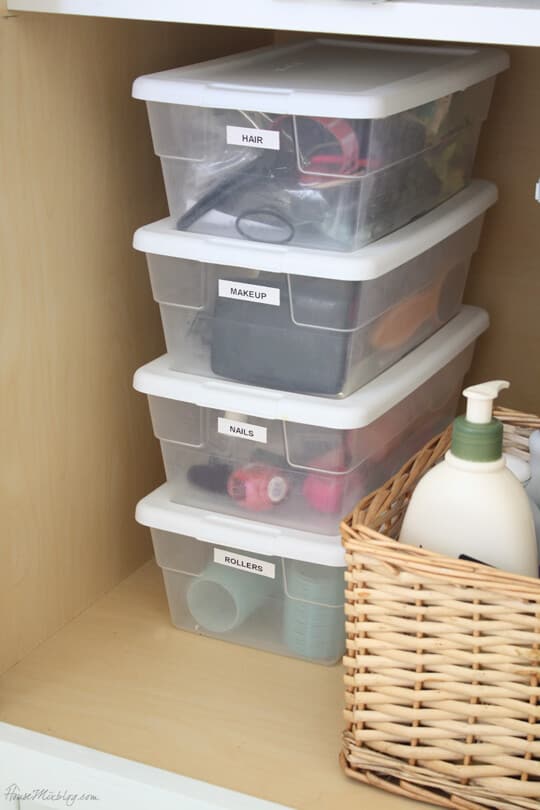 This is a great idea for organizing things in the bathroom that you don't use very often. I have so many things under my sink, and I know these clear labeled containers will help a lot when looking for something. (via House Mix)
---
4. Dollar Store Bathroom Drawer Organization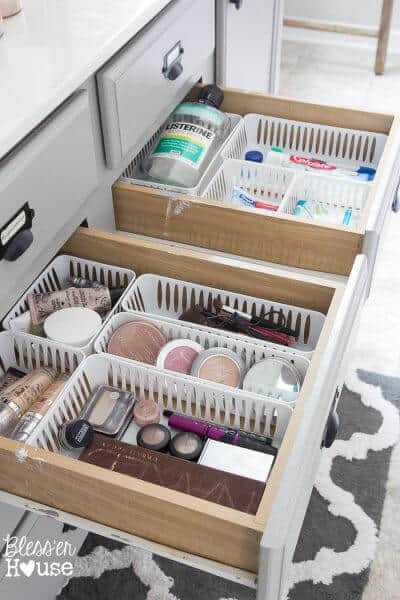 How clean and neat do the drawers in this bathroom look? You can use different sizes of these white containers to create a super organized bathroom drawer. (via Bless'er House)
---
5. Dollar Store Chest Freezer Organization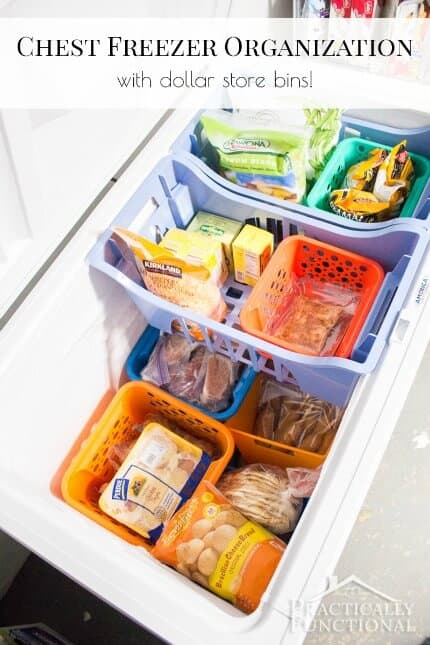 I own a chest freezer, and although I love it because it can hold a lot of food, the challenge comes when it's time to organize it. This dollar store freezer organization system is ideal for keeping your food organized. (via Practically Functional)
---
6. Under Kitchen sink Organization
These caddies are perfect for those cleaners and other items that take so much space under your kitchen sink. In this blog post, Flavia shares many great tips for organizing the space under the kitchen sink. (via Neat House Sweet Home)
---
7. DIY Magnetic Dollar Store Spice Rack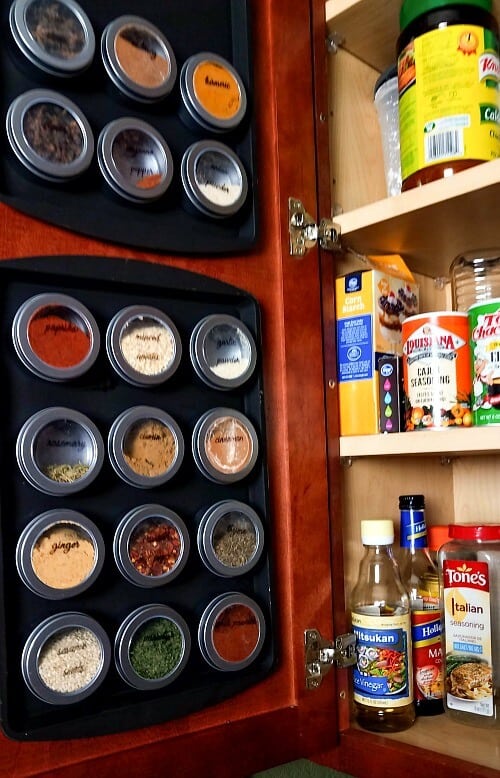 I absolutely love the idea of having my cooking spices organized. With this easy-to-follow tutorial, you will have a more organized kitchen cabinet, and the best part is that you'll save a lot of space. (via A Cultivated Nest)
---
8. Dollar Store Lazy Susan Organizing Idea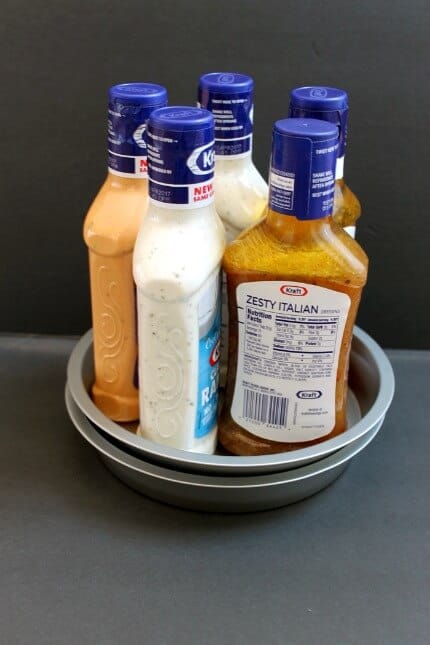 This is a very creative and inexpensive idea for making your own lazy Susan. This super easy tutorial shows you how you can organize your pantry for a fraction of a price of traditional storage systems. (via The Country Chic Cottage)
---
9. Dollar Store Laundry Organization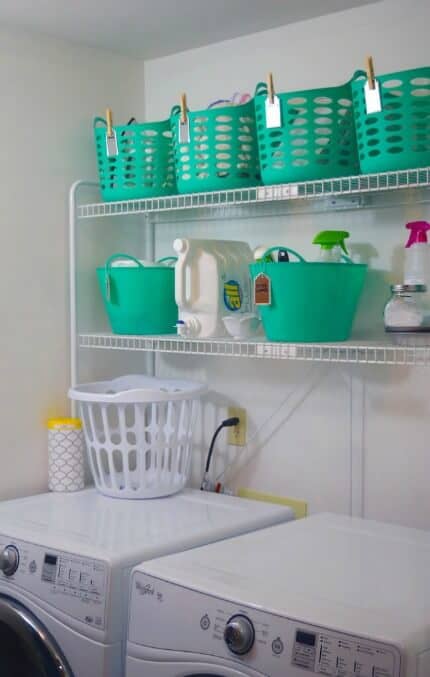 These colorful dollar store baskets would make your laundry room look awesome and more functional. Nikki did a complete laundry makeover for under $25! (via Nikki Jayne Papery)
---
10. DIY Apothecary Jar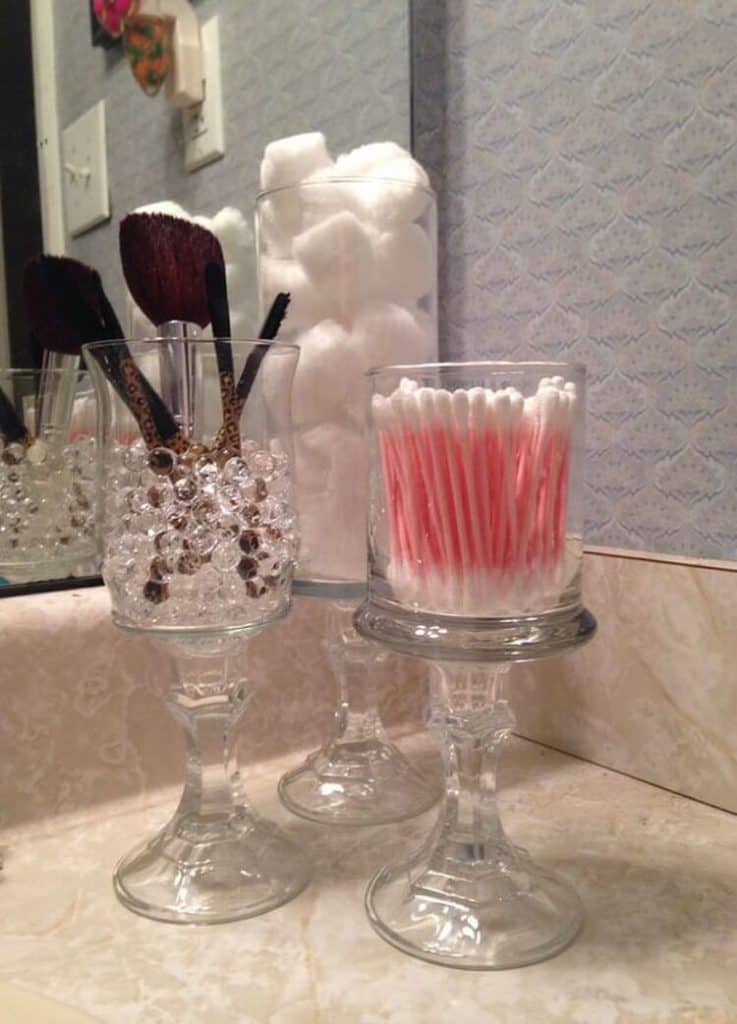 Glue dollar store glasses to candle holders and you have nice looking jars. You can definitely keep your bathroom organized with this cheap organization hack! (via Pinterest)
---
11. Earring Organizer
What a great idea! Now you can avoid misplaced earrings with this simple hack. Who knew that a simple ice cube tray could do the trick! Malia also shares other great dollar store organizing solutions. (via Yesterday on Tuesday)
---
12. Dollar Store DIY Tired Tray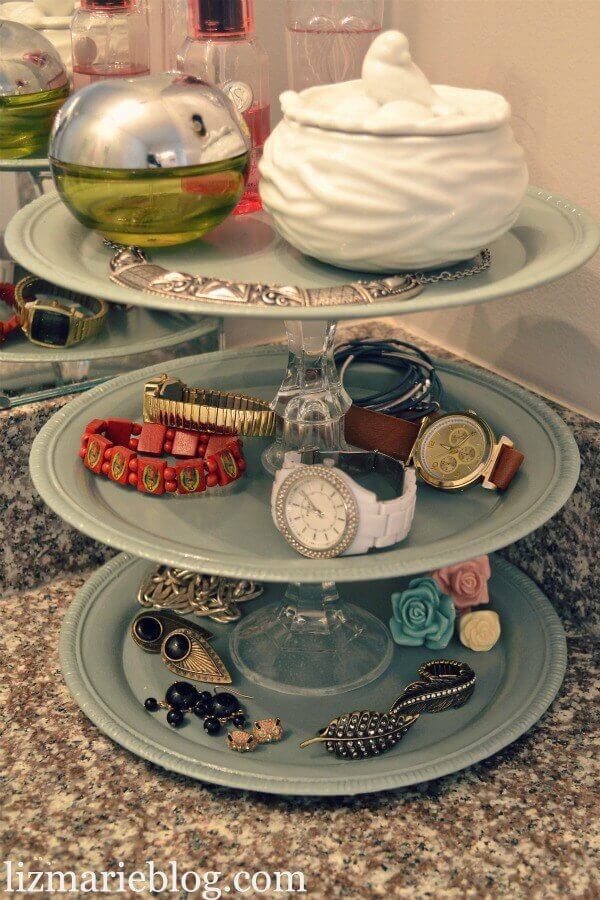 Here is another excellent idea for organizing your jewelry, watches, perfume, and more. You are also not limited to using this DIY tiered tray in your bathroom. You could use it in the kitchen, bedroom, office, or anywhere else! (via Liz Marie Blog)
---
13. Storage Bins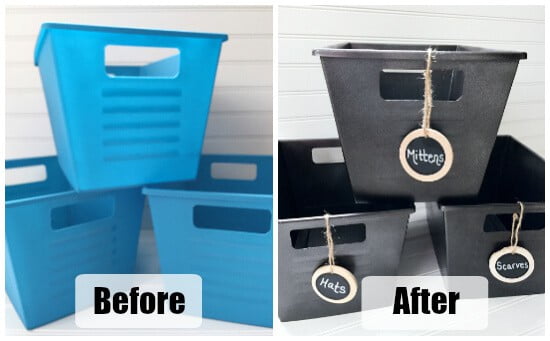 At the dollar store, you can find many colorful storage bins, which are very useful. But sometimes, they don't fit in so well in every room. I love how Erin transformed these dollar store storage bins them into some amazing faux metal bins!. Plus with some easy-to-make labels, you can add that special touch and transform any room in your house. (via Lemons Lavender and Laundry)
---
14. DIY Homework Station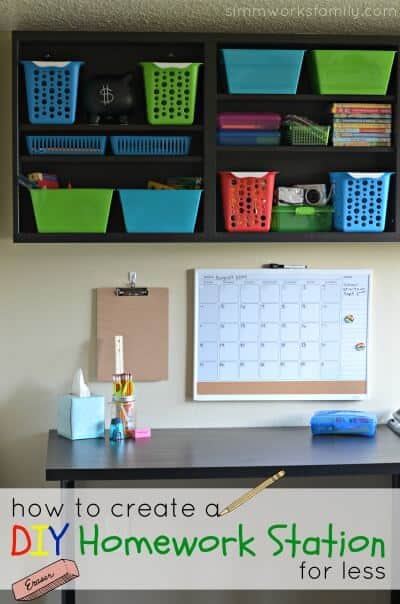 This homework station is great for those of you who have children. Your child will have a dedicated and organized space for their school work. The best part is that with this homework space, school supplies will be easily found. It's also the perfect solution for organizing your home office. I can't wait to try this project! (via A Crafty Spoonful)
---
15. My Favorite Dollar Store Organization Products
Here are other ideas of what you can do with things from the dollar store. You can organize your desk drawers, kitchen cabinets, closet, and laundry room. You can definitely eliminate any clutter in your home with inexpensive items from the dollar store. ( via I Heart Planners )
---
You don't have to spend a lot of money to get organized. You can organize and decorate your house on a budget by simply checking out your nearest dollar store. And with a little bit of creativity, you can turn simple dollar store products into amazing and functional organizational items.
Related: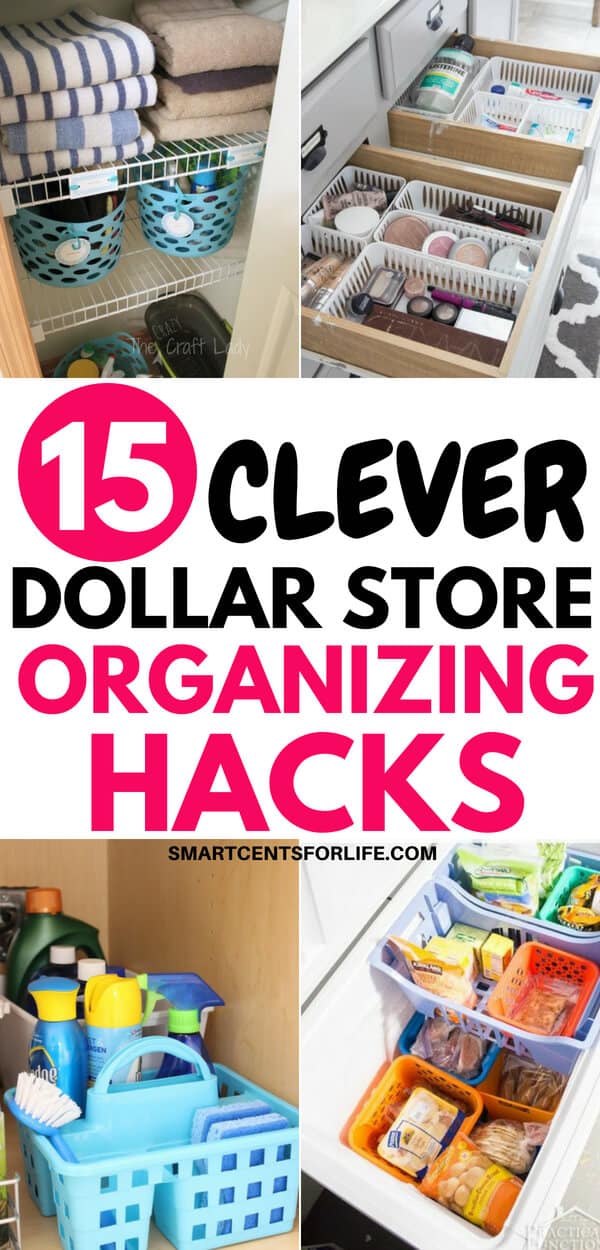 ---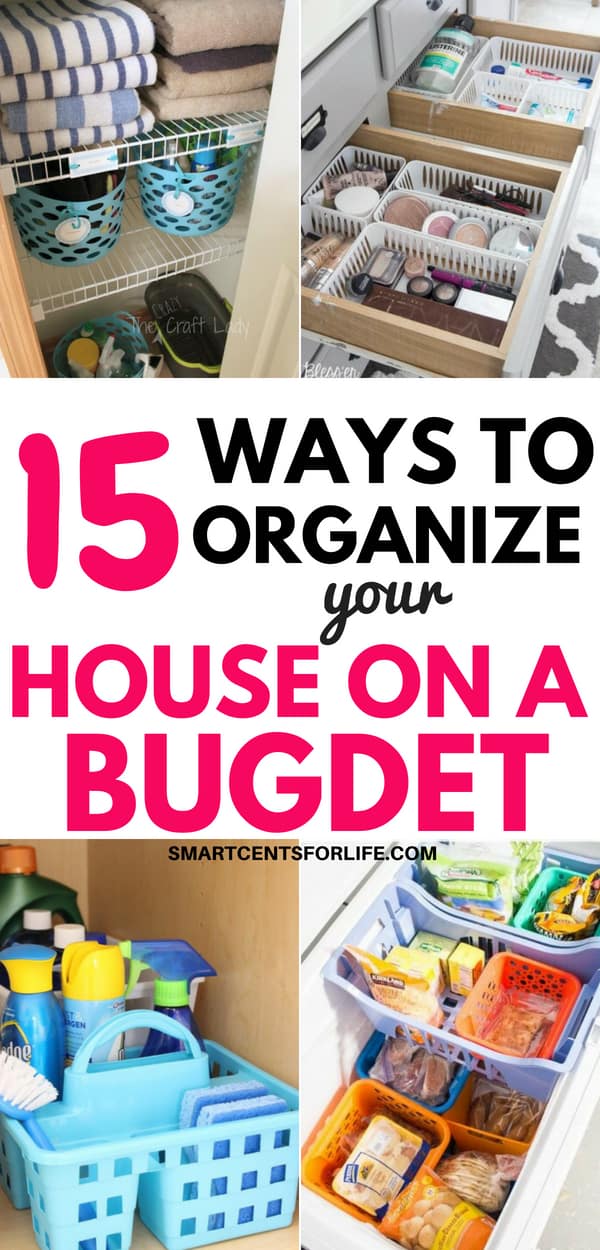 Start a Money Making Blog - FREE 5-Day Email Course
In this 5-Day Free email course I will show you the exact steps to create a profitable blog the right way!
Each day you will learn all the steps needed to create a money-making blog, including how to start a blog from scratch (super easy!) all the way to earning your first income! Join Now!