Most households spend a lot of money on new clothes for each family member. In fact, the Bureau of Labor Statistics found that during the last three years, Americans spent an average of $1,800 on clothes. This is almost the same amount that a person will spend on gas in a year!
Clothes are a statement piece that showcases your style and personal taste. However, paying full price for your clothes can really blow up your budget.
Reducing your clothing expense from your budget is not the only thing do in order to save money on clothes. There are many different ways that you can try and spend less money on clothing.
Below are some simple strategies for saving money on clothes for the family. These tips can help you buy clothes for the family that looks nice and don't stretch your budget too much.
This post may contain affiliate links. That means if you purchase an item through these links, I may earn a commission at no additional cost to you. Please read the full disclosure policy for more info.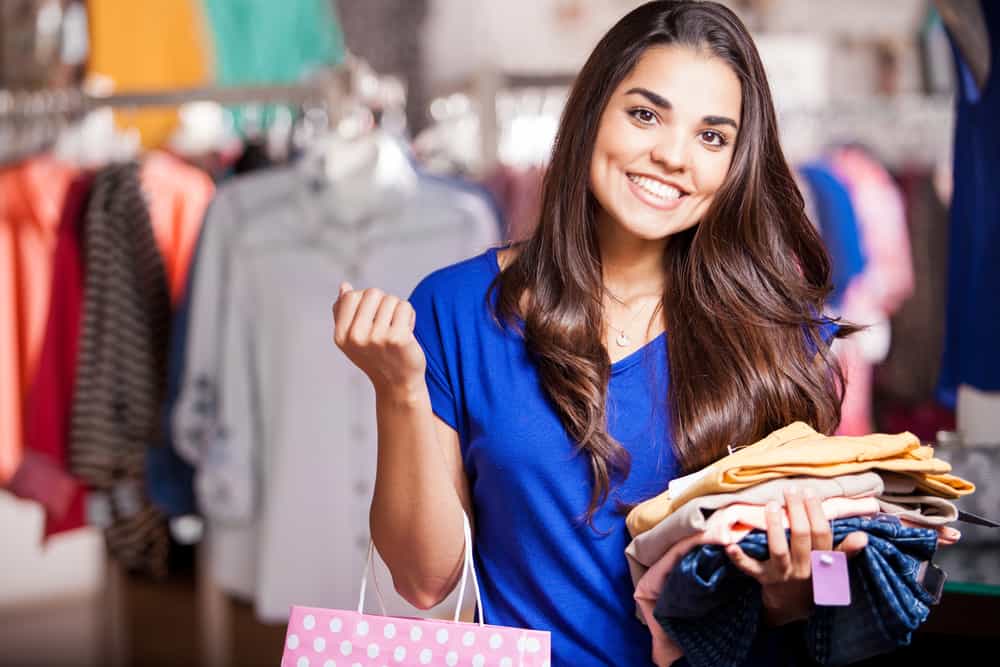 Ten Ways to Save Money on Clothes
Shop Thrift Stores and Yard Sales
It is amazing how many great deals you can find at thrift stores. Sometimes, you can find coats or sweaters for $4–6, shirts and pants for around $3, and even kid's clothes at a very affordable price.
Don't forget that thrift stores such as Goodwill organize sale events too. These sales happen twice or three times a year, and they usually are announced on the company's website.
Yard sales are another option where you can have gently used clothes for $0.50 or $1. Not only that, but you can also find some great household items and many other great things.
Years ago, I was able to find a suitcase that I needed for my abroad trip for only $5! Yard sales are definitely an alternative to find all types of items for cheap!
Use Rakuten when Shopping Online
If you shop online, go through Rakuten.com. It offers cashback on purchases from hundreds of stores, including Macy's, Walmart, Amazon, and Groupon.
With Rakuten, you can earn back a percentage of the money you spend at one of the select stores. Rakuten usually pays out every three months via check or PayPal.
This is How Rakuten Can Help You Save Money on Clothes:
If you need to buy things online, visit rakuten.com first and sign up to your account
Search for the store you'd like to buy from.
Click the shop button (this will direct you to the store's website), and make your purchase as you would normally.
Once your purchase is complete, your cash back will be accredited to your account. It's super easy!
I use Rakuten to make most of my online purchases, and I highly recommend it to anyone who would like to make some extra money. If you are going to shop online, why not earn a little money back?
If you are new to Rakuten, you can get a $10 bonus after your first $25 purchase!.
>>Click here to join Rakuten and get a $10 bonus<<
Related: How Does Rakuten Work? And How to Make Money With It?
Shop Clearance
One great way to find good deals is to shop the clearance section. You can find tops for a few dollars and bottoms at over half off.
You might be shopping out of season at times, but it's a great way to add to your wardrobe. Shopping in-store clearance can save you lots of money on clothes.
Swap Party
If you have friends or family members who are close to your size or your children's size, consider a swap party. You get together and bring clothes you are willing to swap for something new.
You can share clothes this way and replace items you no longer want to wear for something new. It is a win-win for everyone.
Sign Up for Newsletters
If you have some favorite retail stores, sign up for their newsletters. They are free to join, and stores will sometimes email special discounts to you randomly and on your birthday. It's one perk of being a part of their newsletter.
Reward Programs
Most retail stores offer a reward program. They are often free to join and can offer special deals for customers. Some stores offer $10 off after you spend $100 or more and other great specials.
The next time you are shopping, ask if the store offers a free rewards program.
DIY Dress-Up Items
If you find a basic top or pair of shoes, don't be afraid to dress them up to add a little style. You can replace buttons or sew on some trim to add a little design element.
If you know how to sew, you can tailor jeans to fit you and your family members, and that alone can save a lot of money. Pinterest is a great place to find ways to dress-up clothing and shoes to make them stand out more.
Go to Discount Stores
Discount stores like TJMaxx, Marshalls, and Ross are great places to find top-brand clothes for cheap.
There have been many occasions when I was able to find a nice pair of jeans from a great brand for a third of the price of other retail stores. Discount stores are definitely a great alternative for finding great deals on clothes.
Shop Off-Season
Shopping off-season is something I regularly do, and it helps me save money when buying clothes for my family. Most stores set their clearance or sale racks and the end of every season and at a very low price, so take advantage of this.
Something that I recommend if you have kids and it is the end of the season is buying their clothes big enough that they can wear them next year.
Keep an Eye on Sales
Check sale events from your favorite stores. For instance, places like Old Navy have special dates when everything in their store is with an additional 50% off—even clearance items! These special events make buying clothes supper affordable for anyone trying to save money.
Macy's and Kohl's are some of my other favorite stores where you can get amazing deals on clothes. I've gotten items from Kohl's for up to 80% off plus coupons for $25 and an additional 20% off my total purchase!
Wrapping Up
I hope you find these ten simple ways to save money on clothes useful. Do you have any other money-saving tips to never pay full price on clothes? I'd love to know what they are!
Related Posts: