Need some inspiration for easy crockpot soup recipes? Look no further! Stay cozy all day long with these easy-to-prepare slow-cooker soup recipes! Whether you're a parent on the go or simply someone who values a hassle-free cooking experience, these effortless slow cooker soups will have you covered.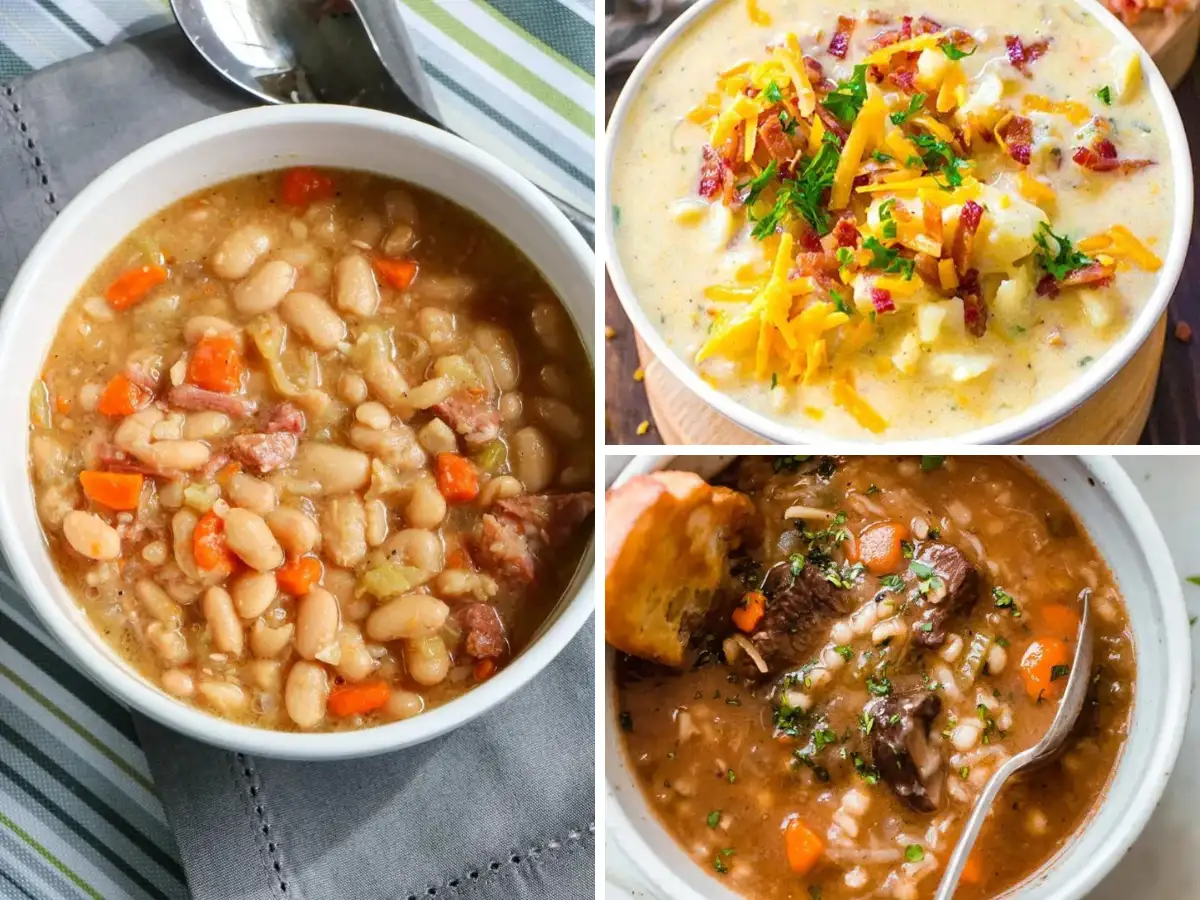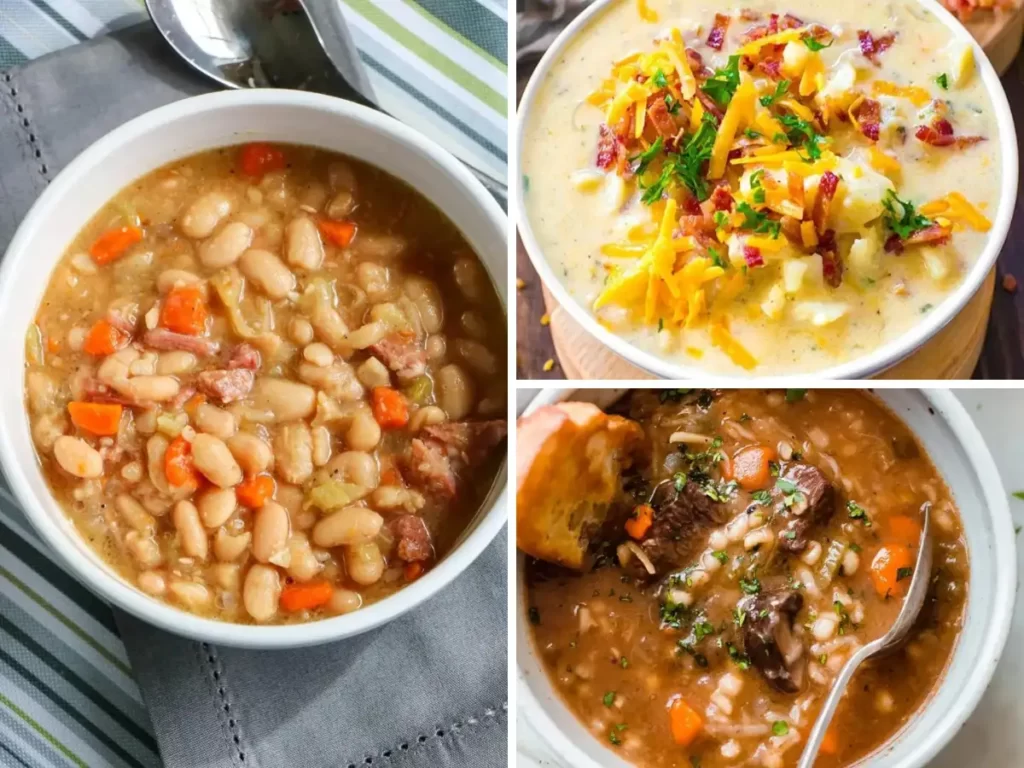 (This post may contain affiliate links. That means if you purchase an item through these links, I may earn a commission at no additional cost to you. Please read the full disclosure policy for more info.)
If you're anything like me, constantly on the lookout for delicious, family-approved, and simple dinner ideas, then you will adore these easy crockpot recipes.
Let me tell you, using a crockpot or slow cooker has been a game-changer in my kitchen because it is so user-friendly, a significant time-saver, and allows you to prepare delicious comfort food your family will love!
When it comes to crockpot soups, they are incredibly easy to make. All you need to do is toss all the ingredients into the slow cooker, set it, and then go about your day. When you return, you will have a homemade soup that has been simmering away to perfection!
But it's not just about the convenience; it's also about the flavors that develop when you let ingredients slow-cook to perfection. And let's not forget about the leftovers!
Slow Cooker soups tend to taste even better the next day, making them an excellent option for make-ahead meals. It's a win-win situation; you save time and enjoy exceptional flavors.
Easy Crockpot Soup Recipes
I've gathered the best and easiest crockpot soup recipes for a busy weeknight meal! From classic favorites to exciting new flavor combinations, these 25 easy dump-and-go slow cooker soup recipes offer something to satisfy every craving!
So, without further ado, here is my favorite go-to list of crockpot soup recipes: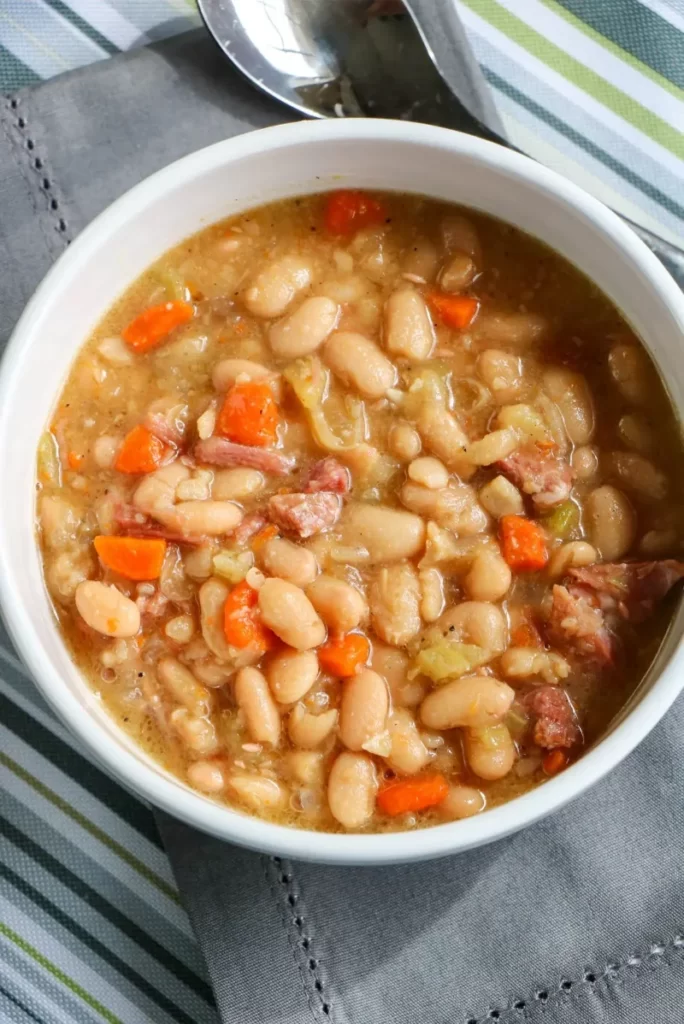 This crockpot Ham and Bean Soup is so easy to make! Simply utilize your leftover ham bone and add some beans and vegetables.
Let everything simmer all day, and you've got insanely flavorful soup. Tender beans and fall-of-the-bone ham together make a great comfort soup! Also, it is a budget-friendly meal! Get the recipe here.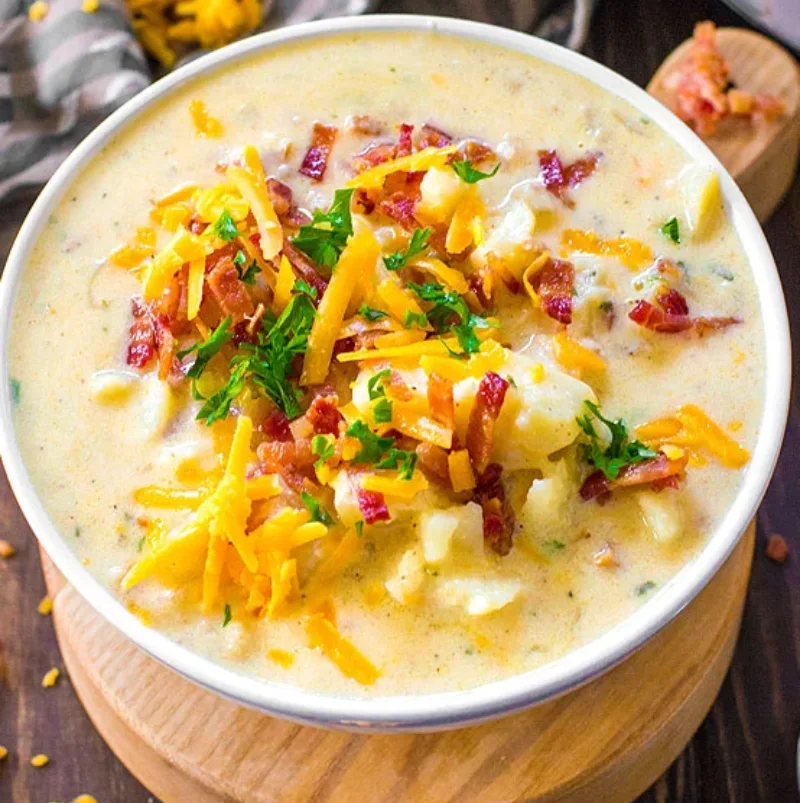 The Crockpot Potato Soup is a thick and creamy cheesy slow cooker soup that your whole family will love! It features flavorful bacon, herbs, potatoes, and cheese. Get the recipe here.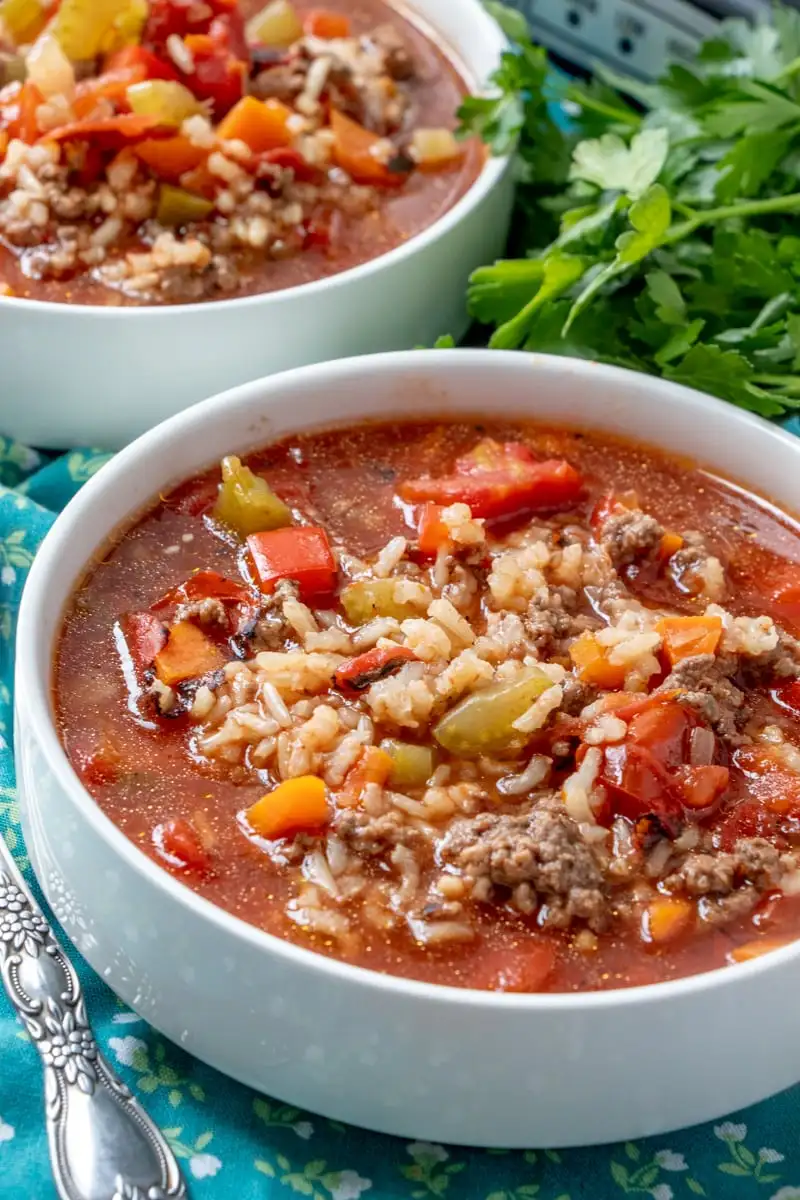 This Slow Cooker Stuffed Pepper Soup brings all the flavors of traditional stuffed peppers without all of the work! You can substitute ground beef for ground turkey or chicken, grated tempeh, and even brown lentils! Get the recipe here.
This crock pot chicken tortellini soup is loaded with chicken, veggies, and tender cheese tortellini. An easy dinner that's a hit with the whole family! Get the recipe here.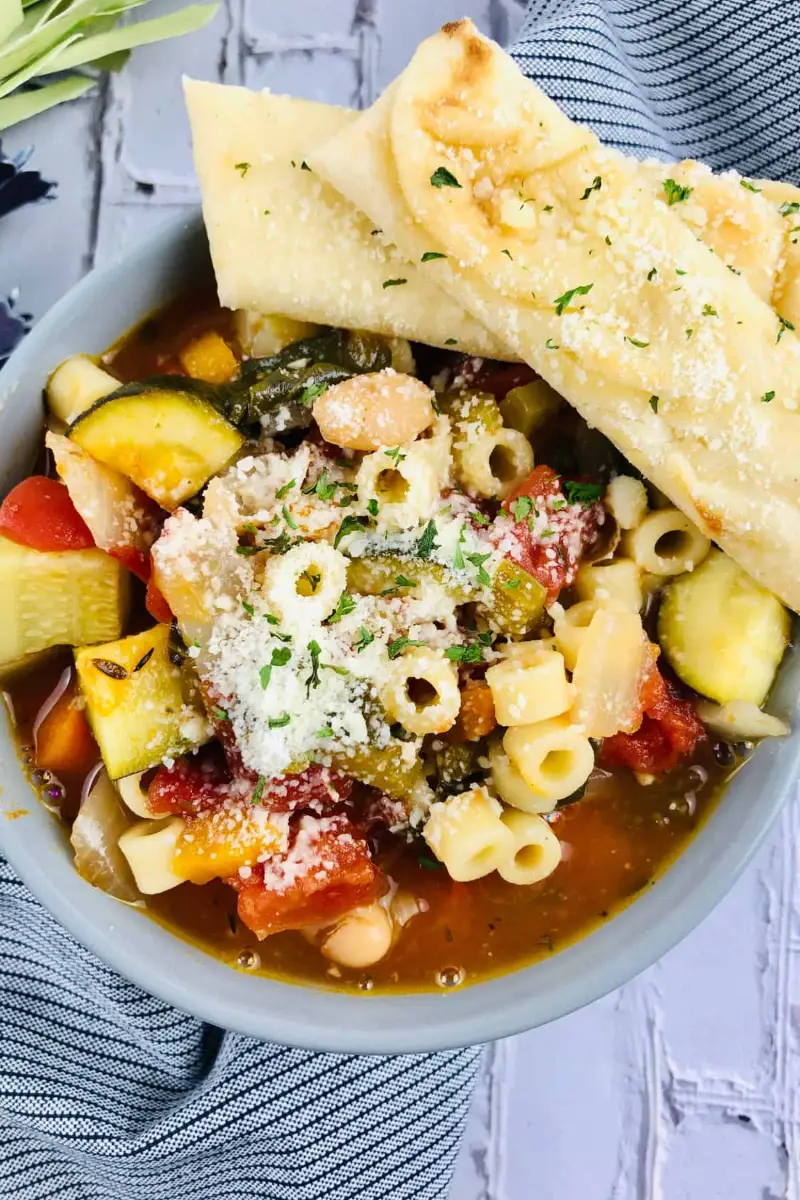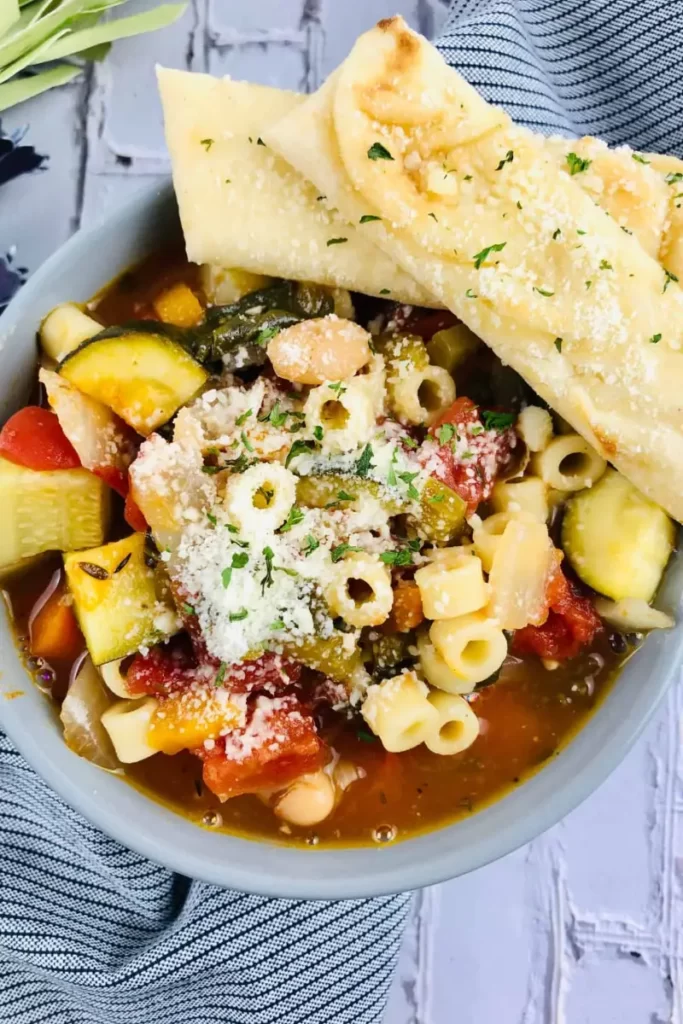 Craft a heartwarming traditional minestrone in your slow cooker using zucchini, white beans, and aromatic Italian seasonings. Serve with crispy bread and a fresh salad for the ultimate chilly winter dinner. Get the recipe here.
This crockpot white chicken chili is a warm and comforting meal that you can dump & go! It's a delicious, hearty soup perfect for any occasion. Get The recipe here.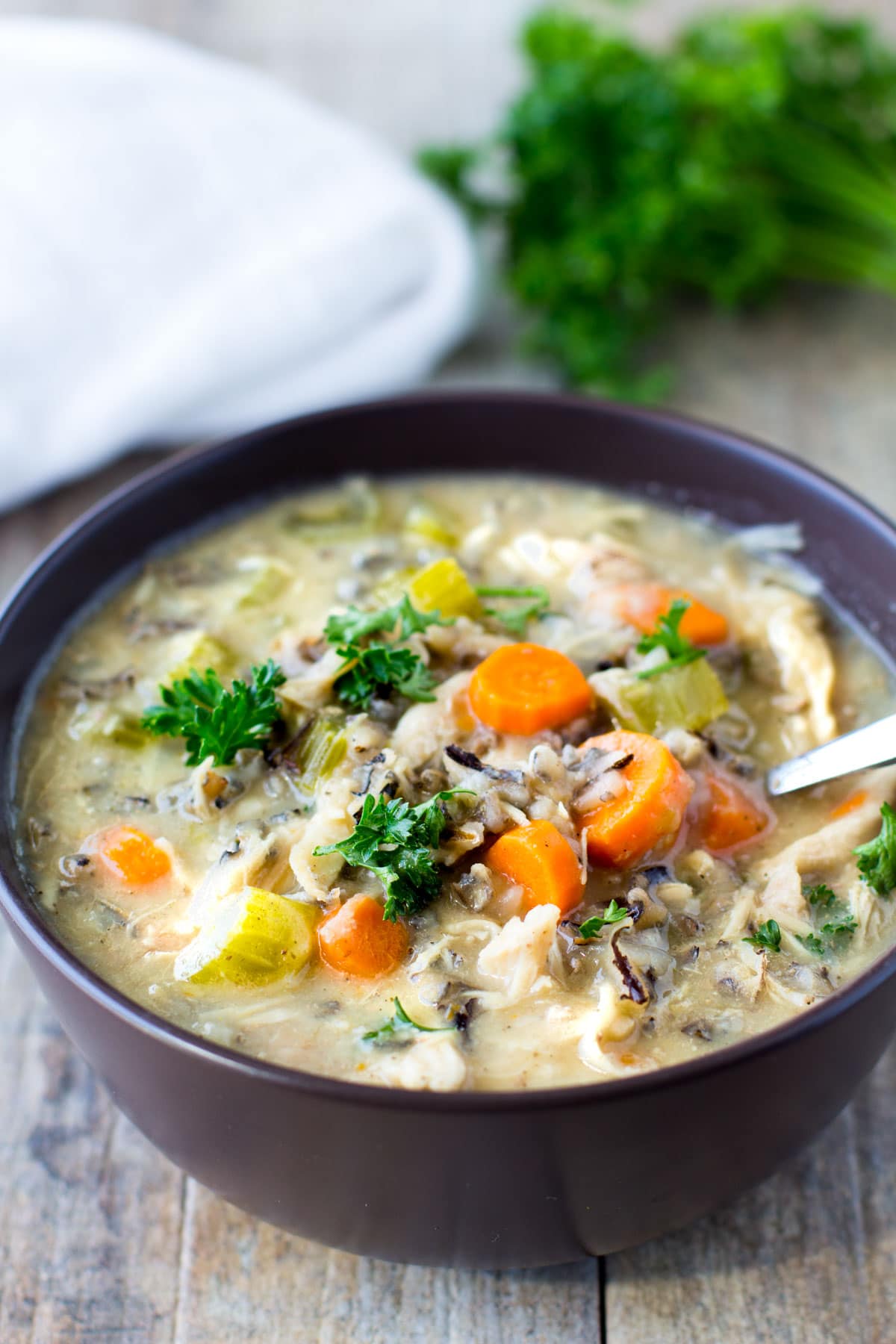 This creamy chicken & wild rice soup cooks up in the slow cooker using a whole chicken for a flavor-packed hearty soup.
This satisfying and meaty cabbage soup serves as an ideal one-pot dinner option. Packed with protein and nutritious vegetables, it can be prepared effortlessly in the crockpot, instant pot, or on the stovetop, ensuring consistently delicious results every time. Get the recipe here.
This creamy chicken tortilla soup ensures a delicious and satisfying meal. It is perfect for those busy weeknights…or just for those lazy days. Get the recipe here.
Deliciously thick and creamy chicken noodle soup made effortlessly in the crockpot! Get the recipe here.
This Easy Crock Pot Broccoli Cheese Soup is packed with healthy vegetables that are blended with cream and cheddar to create a velvety, cheesy soup that even the pickiest eaters love.
Best of all, this slow cooker soup is a super easy, one-pot meal that delivers rich, flavorful homemade broccoli cheese soup to the table with hardly any effort. Get the recipe here.
This crockpot lasagna soup is a simple and tasty dinner recipe that's easy to prepare. It's a hearty soup that you can prepare in advance and reheat for those busy weekdays. Get the recipe here.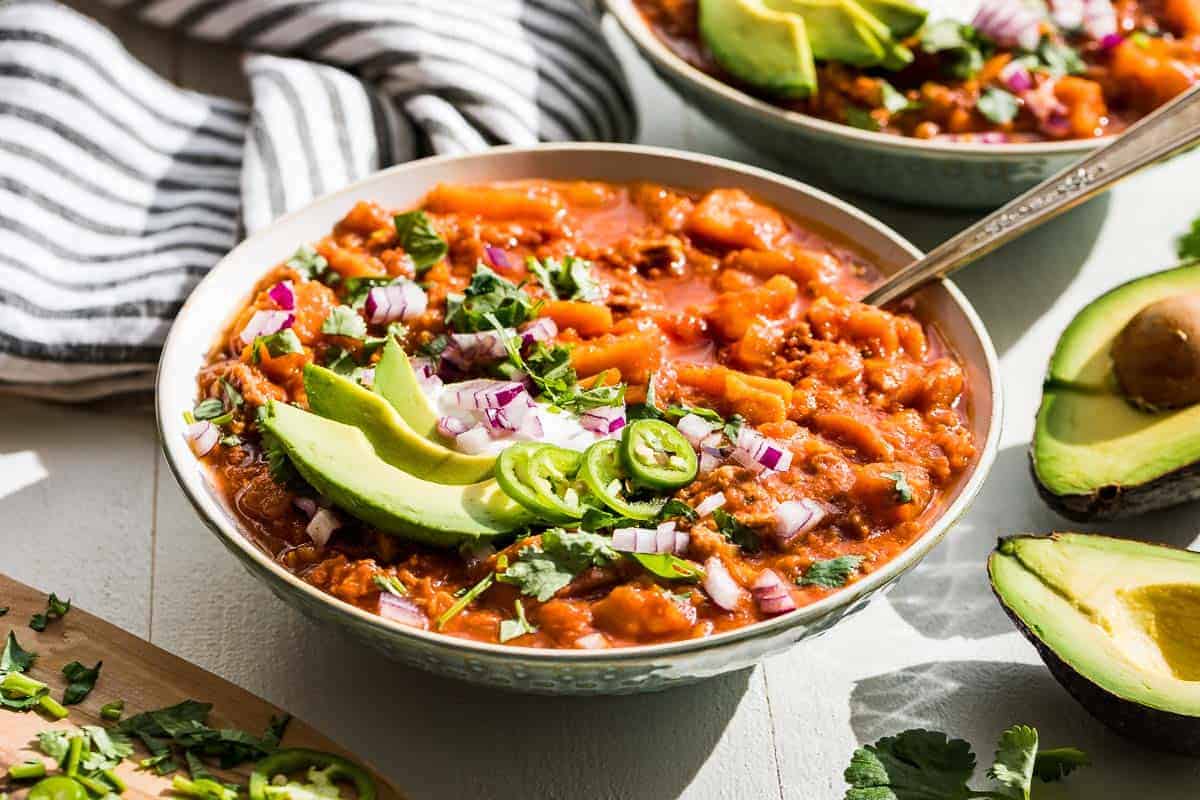 This Slow Cooker Whole30 Chili is an ideal recipe for hassle-free comfort food with minimal cleanup. Get the recipe here.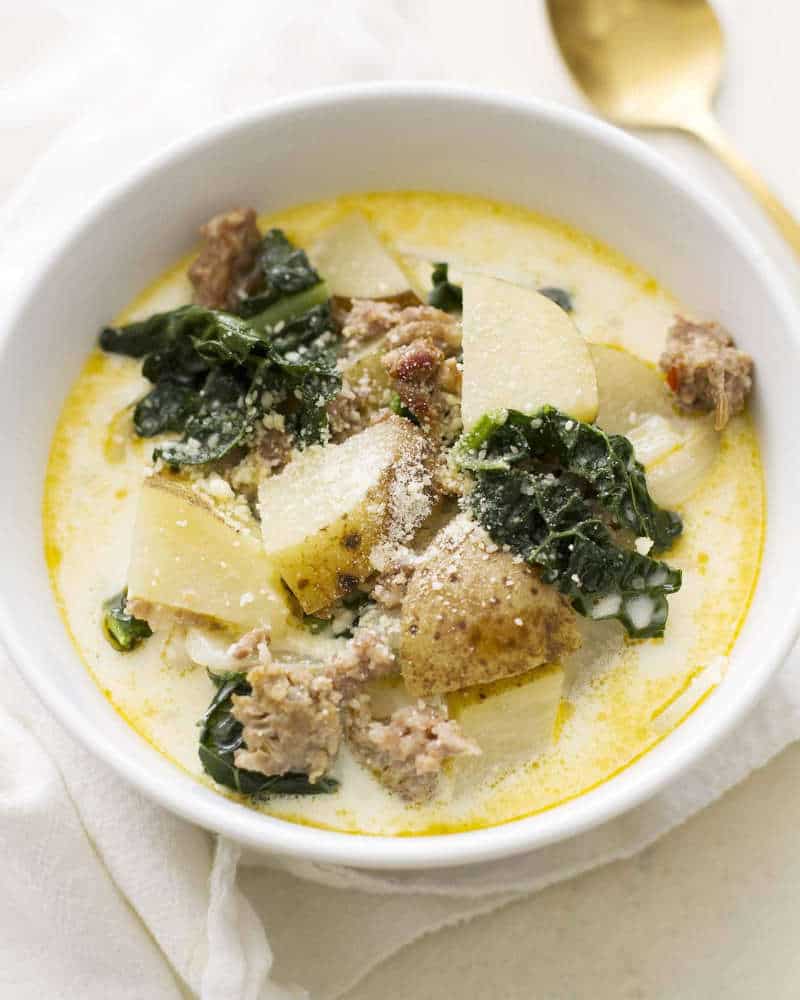 Slow cooker zuppa toscana is a hearty Italian soup made with sausage, potatoes, and kale. It's a great winter dish that you can make in your slow cooker, so you don't have to worry about heating up the entire kitchen. Get the recipe here.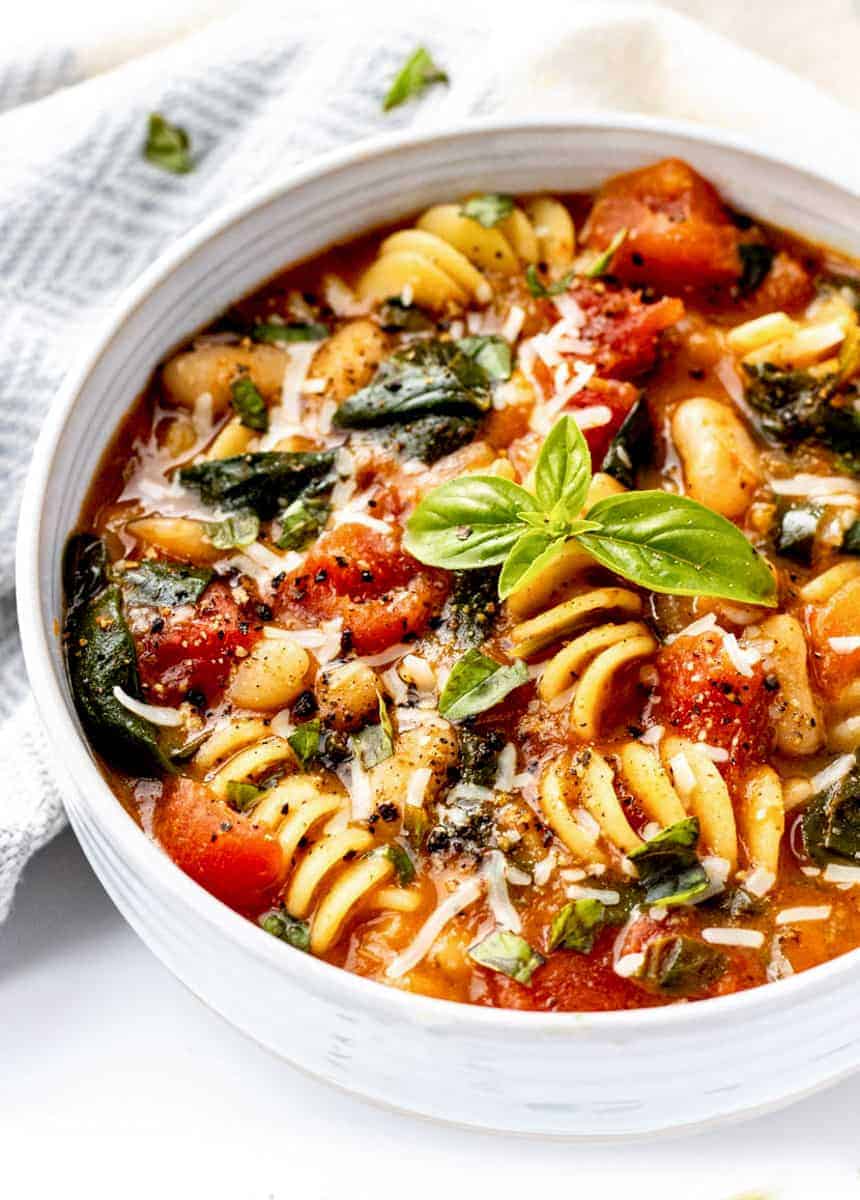 Cozy up with this delicious Italian white bean soup! Made in the crockpot, this vegan soup is loaded with veggies, cannellini beans & pasta. Get the Recipe here.
Make Crock Pot Taco Soup with ranch-seasoned beef, beans, and tomatoes, and top it with your favorite fixings. It's a budget-friendly weeknight meal and perfect for meal prep! Get the recipe here.
This slow cooker pumpkin soup is perfect for the fall season. This effortless two-step slow cooker recipe involves nothing more than chopping the vegetables and blending the soup. Get the recipe here.
Whether you are under the weather or just yearning for warmth on a cold night, this chicken noodle and kale soup is an excellent option to prepare! The best part is how easily it comes together, all thanks to the reliable crockpot! Get the recipe here.
Get all the flavors of a juicy cheeseburger in this warming, hearty Crockpot Cheeseburger Soup. Get your cheeseburger fix with a healthy dose of veggies too! Get the recipe here.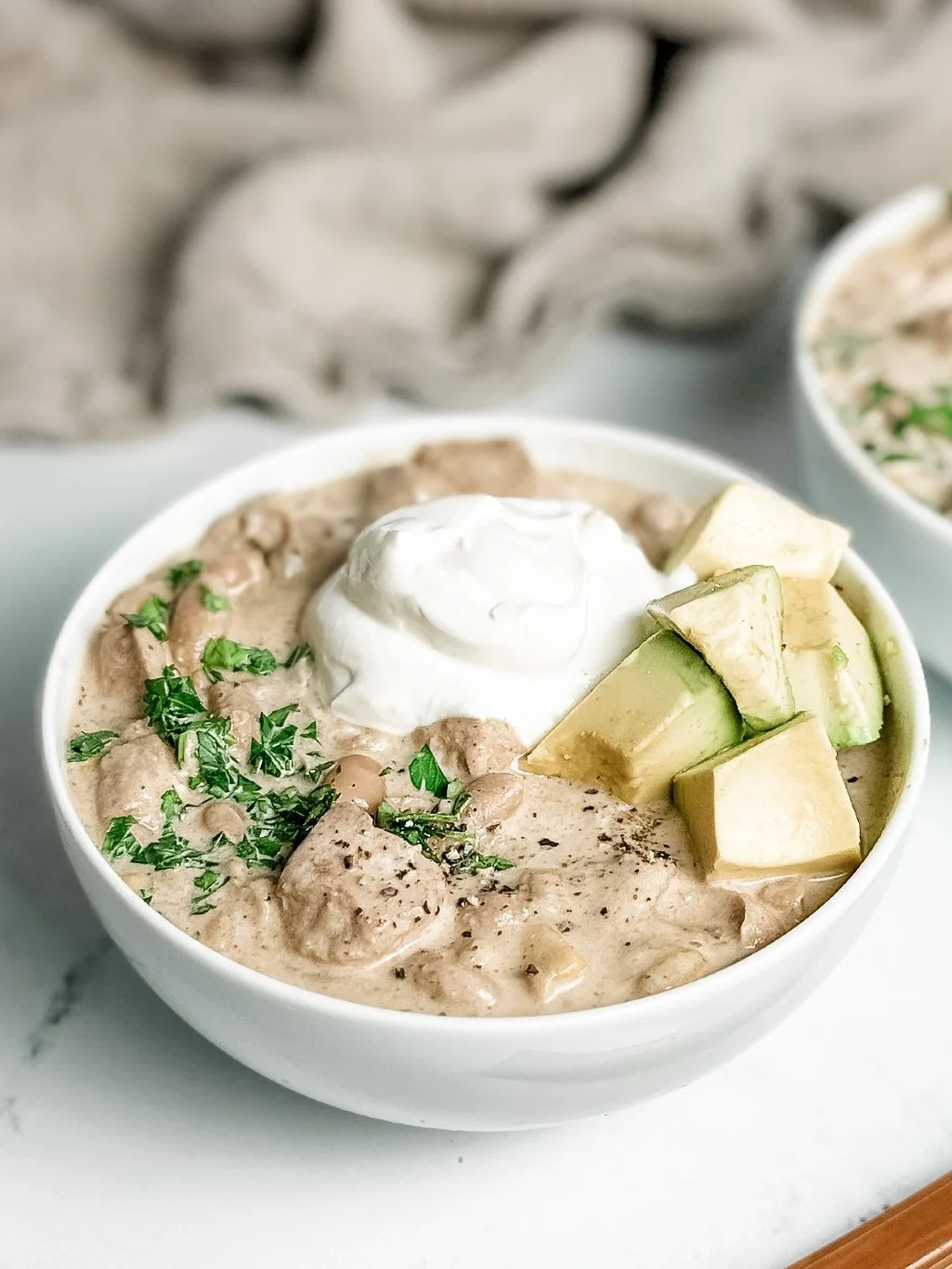 This white bean chili is incredibly comforting, warm, hearty, and filling! This recipe is excellent for meal prep and leftovers. The flavors are savory and cozy. This chili recipe is loaded with flavor! Get the recipe here.
This Butternut Squash Soup is a delicious fall soup recipe you can prepare with little effort! It is creamy and flavorful and so easy to make in a slow cooker! Get the recipe here.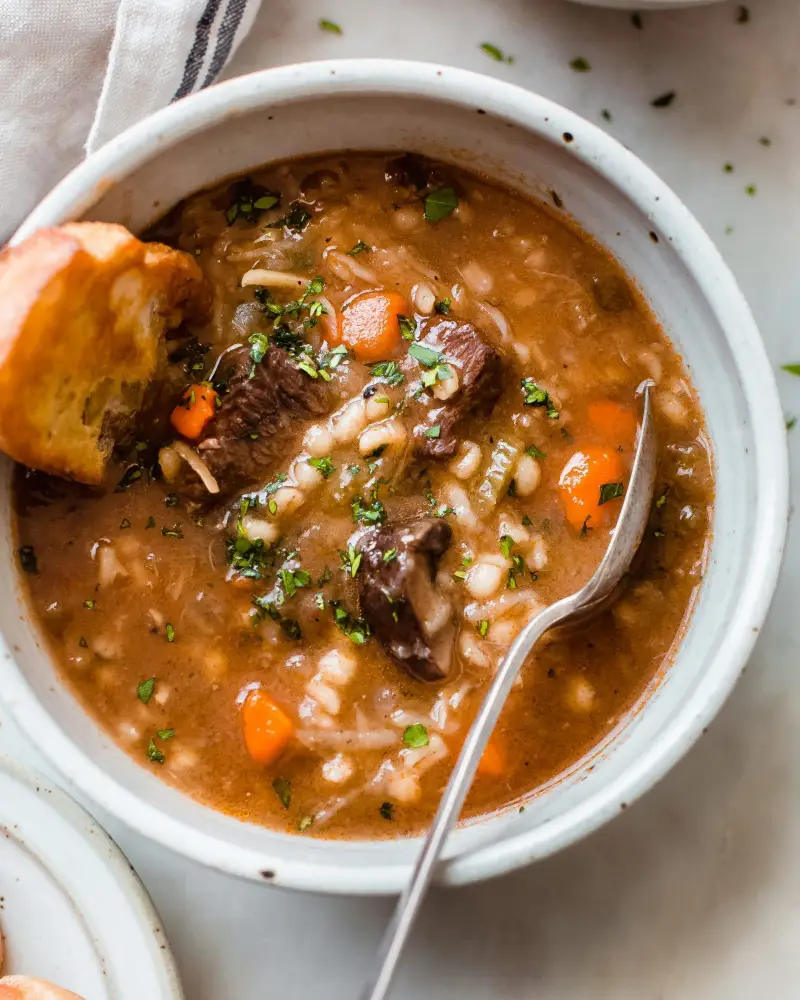 A simple yet comforting beef barley soup made in the instant pot or slow cooker! The beef chunks are tender, and the veggies and barley are perfectly cooked. It's seriously the simplest, most flavorful stick-to-your-ribs kind of soup! Get the recipe here.
This Slow Cooker Cajun 15 Bean Soup is a real comfort food your family will enjoy. It's hearty and bursting with flavor.
It has that classic Cajun taste with smoky sausage and a mix of veggies that go together perfectly. But what makes it extra unique is the variety of beans that turn it into a surprisingly tasty meal. Get the recipe here.
This easy Slow Cooker Beef Pho simmers away all day, creating a flavorful broth you and your family can enjoy on a cold day! Get the recipe here.
Autumn Butternut Beef Stew is chock full of tender beef and the typical root vegetables – potatoes, carrots, and onions. But what makes this beef stew downright unique is the fact that it's loaded with butternut squash for a comforting flavor. Get the recipe here.
There you have it – a selection of easy crockpot soup recipes that will warm your heart and satisfy your appetite. These easy slow cooker recipes are perfect for lazy Sundays, busy weeknights, or whenever you crave the comforting taste!
So, dust off your crockpot, gather your ingredients, and let these recipes work their magic. Enjoy your delicious and hassle-free homemade soups!
More Crockpot and Frugal Family Dinner Ideas:
What is your favorite slow cooker soup recipe? Also, don't forget to bookmark and keep this list on hand so you can come back and try any of these easy dinner ideas throughout the month!