14 Easy DIY No-carve pumpkin decorating ideas – Carving pumpkins is something that many families enjoy during the fall season and for Halloween. I love the idea of decorating pumpkins especially if the kids are involved in the project, they have so much fun!
It's not October quite yet but I can see many houses with their traditional Jack-O-Lantern's outside their porches already!
This year I would like to try something different; decorating pumpkins were carving is not involved. This is because my little one is super active and a curious toddler. So, I prefer to avoid any potential harm with carving tools or knives. Not only that but to be honest, I also prefer to avoid all that mess … (a win-win)!
(This post may contain affiliate links. That means if you purchase an item through these links, I may earn a commission at no additional cost to you. Please read the full disclosure policy for more info.)
Here is a round-up of 14 Pumpkin decorating ideas that do not require any carvings at all! Perfect for the whole family to get involved!
Top Posts This Month:
14 Easy DIY No-Carve Pumpkin Decorating Ideas
1. Black and White Glam Pumpkin from A Pumpkin and A Princess
2. Olaf Pumpkin from Yesterday on Tuesday
3. Mummy Pumpkins from Bliss at Home
4. The Swarm of Bats from NoBiggie
5. Han Painted Pumpkin Topiary from Lucy Designs
6. Confetti Pumpkins from Made in a Day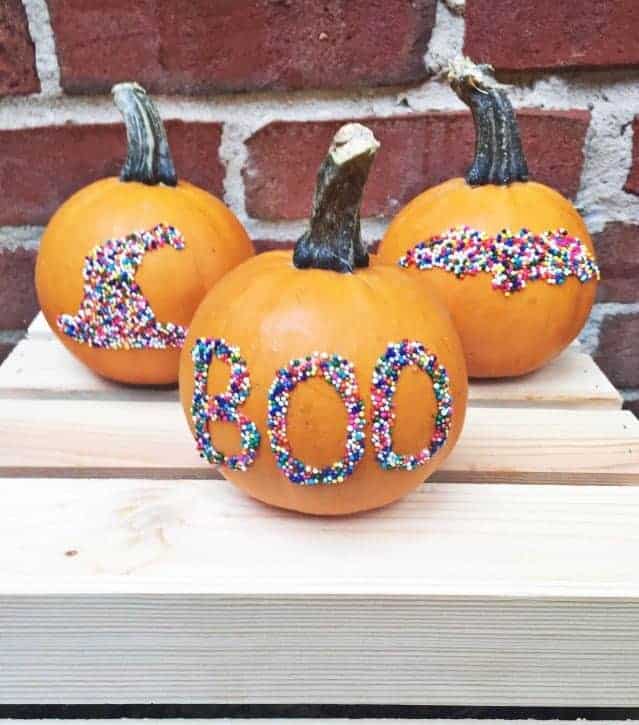 7. Sprinkle Silhouette Pumpkins from A Joyful Riot
8. Galaxy Pumpkin from Dream A Little Bigger
9. DIY Confetti Pumpkin from The Crafted Life
10. Glitter Monogrammed Pumpkin from Unoriginal Mom
11. Chevron Candy Corn Pumpkin from Easy Pumpkin Ideas
12. Glitter Swirl Pumpkin from Hello Life
13. No Carve Pumpkin Decorating from Creating Really Awesome Fun Things
14. DIY Gold Confetti Pumpkins from Homey Oh My
Which pumpkin decorating idea is your favorite?
Like this post? Pint it!
My Top Favorite Resources:
Ibotta is an app that allows you to save money on groceries, clothing, restaurants, gas stations, pharmacies and more!
If you are new to Ibotta you can get a FREE $10 welcome bonus when you sign up through this link.
Swagbucks: This is my favorite survey site where you can make extra money every single day. With Swagbucks, you earn SB points each time you answer surveys, search the web, shop online, play games, watch videos and more! Then you can redeem your accumulated SB points and convert them into cash via Paypal or gift cards. You have the opportunity to earn up to $35 per survey. So, it is definitely an option to try.
Receive a free $5 bonus just for signing up today through my link here.
VIPKID, is an online teaching service that provides teaching English to children in China between the ages 4-12. VIPKID is currently hiring remote teachers and you could make between $14 to $22 an hour by working in your free time from home (or anywhere). If you have a bachelor's degree in any field, this could be a great opportunity for you. Click here to learn more about VIPKID.
$5 Meal Plan: if your goal is to save time and money on meal planning and prepping then the $5 meal plan is perfect for you! After registering, the plan is only $5 per month (after the 14-day trial period!). They will send you straight to your inbox the meal plan for the week and the exact shopping list you will need to make the meals. Every meal will cost approximate $2 or less to make. It will definitely save you a lot of time and money. You can start the 14-day free trial here.
Pinecone Research: This is another great survey company where you can make extra money in your free time. The best part is that you can earn $3.00 per survey. Like other survey sites, you earn points for every completed survey. Then, you can redeem your points for cash or prizes. The redemption of points includes Paypal, Prepaid VISA cards, e-vouchers, gift cards and more. You can sign up for Pinecone Research here.
Rakuten is an easy way to make extra money when shopping online. It is very easy to use, you go to their website and click the link from the store you would like to buy from. They give you cash back from shopping thru their links. You can also use discounts and coupons while shopping online. You can sign up for Rakuten here and receive a $10 cash back FREE!