Are you looking for the best stay-at-home mom jobs that pay well? Here is a massive list of resources for moms to make money from home while taking care of their kids. Legitimate work-from-home jobs for moms that are flexible and can be done part-time or full-time. The Ultimate Guide to Make Money From Home As A Mom!
Stay-at-home mom jobs are on the rise and becoming more popular every day. As a mom, you can find many opportunities that allow you to work from home and contribute to your family's income while raising your kids.
But the big question is, how do you find a legitimate stay-at-home mom job that pays well?
Trust me, I know how frustrating it can be to look everywhere without finding stay-at-home jobs for moms that are realistic or possible for you—I have been there!
I'm a true believer that it is possible to find work-from-home jobs for moms that pay great allowing you to supplement your family's income.
(This post may contain affiliate links. That means if you purchase an item through these links, I may earn a commission at no additional cost to you. Please read the full disclosure policy for more info.)
Thee Best Stay-at-Home Mom Jobs With No Prior Experience
Finding stay-at-home jobs with no prior experience can be challenging, but with the right resources and tools, it's definitely possible!
I personally consider that the first step is to make a list of all skills, talents, and interests you may have.
For instance: If you have some ability and taste for interior design you could consider freelancing as an interior designer consultant.
Or maybe you know how to manage social media platforms like Instagram, Facebook, or even TikTok, you can list and consider offering your services as a social media manager to local business owners.
If you have no prior experience, and you have some doubts about finding a legitimate at-home job, you can rest assured that there are plenty of opportunities for you where you can find flexible work-from-home jobs where employers require no experience.
Keep in mind that many places that recommend different at-home jobs for moms don't clarify what do you need to start (skills needed) or how much you can expect to earn. These are the main reasons why I decided to create this guide to jobs for stay-at-home moms.
In this article, I will share the best stay-at-home mom jobs with no experience or degree needed. This feature is a plus because it makes it even easier to hunt for a real work-at-home job.
Many of these jobs provide flexible hours and can be done part-time or if your schedule allows, full-time. Regardless of the type of job you choose, remember that like any regular job, or even remote jobs will also require time and effort.
21+ Best Legitimate Stay At Home Jobs For Moms
For each stay-at-home job listed below, I explain the job description, how much you'll expect to earn, and what you need to get started. Without further ado, here are the best work-from-home jobs for moms that pay well.
1. Become a Freelance Proofreader
If you're the type of person who easily catches errors when reading and has an eye for detail, proofreading could be the perfect stay-at-home mom job for you.
Proofreading is one of the best work-at-home jobs for moms because it provides lots of flexibility and doesn't require a degree or previous experience.
Additionally, you will be exposed to competitive pay and the possibility of running a successful business from home.
Many people who work from home as a proofreader make an average of $45 per hour. This wage also depends on the number of clients and hours you're willing to put in.
Caitlin Pyle made over $40,000 a year working part-time as a proofreader. Now she teaches others how to make money from home or anywhere else as a proofreader.
You can also check out the interview I had with Caitlin on how to become a proofreader and make money working from home.
If working from home as a proofreader is something that interests you, make sure to check out this free workshop where you can learn the most important facts about proofreading.
You will learn the skills you need to perform this job, how you can create a profitable proofreading business from home, and how to land your first clients!
Check out this FREE workshop here.
2. Become a Virtual Bookkeeper
Finances and the accounting industry will always be in demand, and businesses need a lot of these services. In fact, Entrepreneur Magazine listed bookkeeping as one of the most profitable businesses for the second year in a row!
The great thing about bookkeeping is that you can work for a company remotely or run a virtual bookkeeping business from home and work independently.
According to ZipRecruiter, as of June 2019, the average pay for bookkeepers working from home is $58,233 a year.
You don't need to have previous experience or certification to start a virtual bookkeeping business. However, you will need some general accounting skills to help other businesses with their financial records.
These accounting skills can be learned from different places, such as college. The only downside is that schools usually don't teach you how to begin a bookkeeping business from home.
I recommend Ben Robinson's free training, where you will learn how to become a bookkeeper and work from home.
Ben used to own a CPA firm, and now he teaches others how to work from home and make $60+ per hour by starting a thriving bookkeeping business.
In Ben's free bookkeeper training course, you will get an overview of the bookkeeping field, how much money you can expect to earn, the tools you'll need to succeed, how to land your first clients, and much more.
You can register for the FREE bookkeeper training here.
Related: How to Become a Bookkeeper from Home (a full interview with former CPA, Ben Robinson)
3. Start an Amazon FBA Seller Business
One business idea that is getting a lot of traction these days is being part of the Amazon FBA seller program.
For this type of work at home job, you buy products that are on sale or at a lower price from regular retail stores, ship them to Amazon, and resell them at a higher price. This is also known as a retail arbitrage business.
The great thing about this program is that Amazon takes care of the warehousing and shipping to buyers for you, so you never deal with inventory or fulfillment.
Among all the legitimate work-from-home jobs for moms, Amazon FBA seller can be very a lucrative business.
The pay varies, and it depends on the amount of inventory you have on hand that can be sold on Amazon. Many people report initial earnings of around a thousand per month, while others report several thousand.
Jessica and Cliff Larrew started working part-time selling items online, and after one year of being part of the Amazon FBA Seller program, Cliff left his day-time job and joined Jessica full-time.
Now, they run a successful Amazon FBA business and t make a six-figure profit as Amazon FBA sellers while working less than 20 hours a week!
Jessica and Cliff have a free seven-day email course where you can learn more about how to become an Amazon FBA seller.
You can learn more about this free course here.
4. Start a Blog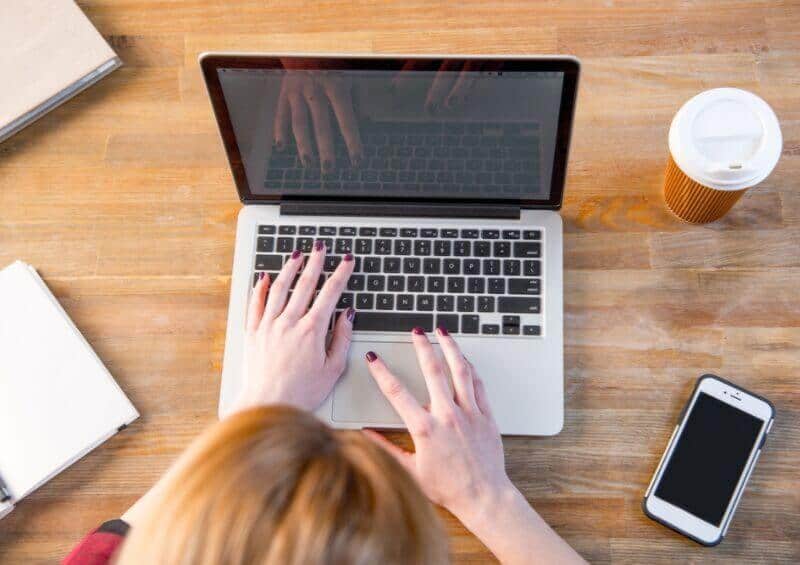 I consider blogging to be the most flexible and why not go with the best stay-at-home mom job that allows you to earn a passive income and work around your schedule from home or anywhere else.
Blogging is what I chose to make money from home as a stay-at-home mom. Many people think that it takes a lot of time to make a decent income, but truth be told, that's not always the case. After a couple of months of blogging and writing several blog posts, I was making over $3,000 a month!
Now that I'm earning a full-time income with my blog, I'm able to help with my family's financial needs. I certainly didn't reach this amount of income overnight, but it was possible with a lot of hard work and dedication from the beginning.
I know many bloggers who make between $5,000 and $10,000 per month, and some of them earn more than $100,000 per month! However, blogging is not a "get rich quick" scheme. It could take a little time and consistency to see your efforts paying off. But in the end, it's all worth it!
There are many ways to make money with a blog, such as using affiliate marketing, displaying ads, selling your own products, or working with brands through sponsorships.
Many bloggers start making money with affiliate marketing, and then they add displaying advertising to increase their income. These two are the easiest ways to start making money with a blog and in fact, these are the ones I use to make a living with my blog.
If you are interested in starting a blog, then check out my easy step-by-step tutorial showing you how to start a blog from scratch, how to start earning money, and get traffic to your blog.
You can also learn how to start a blog from scratch with my free How to Start a Blog course
Here is a summary of what you can learn:
How to choose a topic or niche to blog about
How to create your own blog from scratch
What topic you should write about so you can make money
How to bring traffic to your brand new blog
How you can start making money from your brand new blog
You can register for my FREE 5-day Blogging course here
5. Become a Transcriptionist
As a transcriptionist, you will be listening to audio files that could be related to the medical, legal, or any other field and converting these audios into written text. In other words, you will type what you hear. Transcriptionists earn money per word or per hour, depending on the hiring company.
The average pay for transcriptionists is between $15 and $35 per hour. Many companies hire transcribers these days, and they offer different rates. It all depends on the type of experience you have.
You can turn this stay-at-home job into a rewarding career with great benefits, such as working around your schedule, having lots of flexibility, and being your own boss by doing something you like and, more importantly, working from your home.
If you have experience: Companies that offer transcribing jobs are TranscribeMe, Rev, Go Transcript, and Net Transcripts.
If you have no experience: If you are new and are interested in making money from home as a transcriptionist, here is a free seven-lesson mini-course that will help you learn more about transcription.
This free course will teach you about the demand for transcriptionists, the skills you may need to become a successful transcriber and make money working from home, and much more.
You can learn more about this free transcriptionist course here.
6. Become a Freelance Writer
If you like to write and have decent grammar skills, you can definitely make money as a freelance writer working from home.
Freelance writing is very flexible and considered one of the most lucrative and legitimate stay-at-home mom jobs that pay well.
In fact, Holly Johnson makes over $200,000 per year working as a freelance writer.
The market for freelance writers is gaining a lot of popularity and increasing fast. According to the US Department of Labor, the demand for freelance writers and authors is expected to grow 8% from 2016 to 2026.
The approximate income for freelance writers is between $40,000 and $50,000 per year. As with any other freelance job, the more experience you have, the higher you can charge for your services.
If you have little to no experience, check out Holly Johnson's free training course. You will learn the exact steps Holly used to increase her income to $200,000 per year, the six keys to online freelance success, how to get new clients, and much more.
Holly's course can really give you a new perspective about making money from home as a freelance writer while being a stay at home mom.
Once you have a good portfolio to show your work, or if you have already one, sites like Upwork or LinkedIn are great places to start searching for freelance writing jobs.
7. Become a Virtual Assistant
Many online businesses and entrepreneurs hire virtual assistants to help with different tasks related to their businesses. They seek virtual assistants to perform the tasks they can't do because of lack of time, desire, or full knowledge.
As a virtual assistant, you will have the opportunity to work remotely from the comfort of your home. The services you could provide include the following:
Social media management
Email management
Project management
Content production
Bookkeeping
And more, depending on the type of client
According to Payscale.com, the average rate for virtual assistants is $15.65 per hour. This amount could increase up to $29 per hour or more depending on your level of experience and the type of services you provide to clients.
If you have previous experience with some of the skills mentioned above, create a profile on sites like Zirtual or Upwork to start booking your first clients.
I also highly recommend Gina Horkey's course, 30 Days or Less To Virtual Assistant Success, to learn how to start a virtual assistant business from home and charge between $25 and $45 per hour.
Gina is a successful virtual assistant, who makes six figures a year by providing virtual assistant services.
Gina's course teaches you how to start a successful virtual assistant business that allows you to work from home, enjoying freedom and flexibility by using the skills you already have or learning new ones.
In an interview I had with Gina, she shared her best tips on how to become a virtual assistant and make money working from home.
If this work-from-home job sounds appealing to you, check out the following link for Gina's course and learn more about 30 Days or Less to Virtual Assistant Success
8. Start Flipping Items for Profit
Flipping items for profit could be a great way to make money as a stay-at-home mom. Melissa and her husband, Rob, from Flea Market Flipper, started a flipping business as a side hustle.
Now, they make over $130,000 flipping items from places like flea markets, thrift stores, garage sales, and auctions!
The income varies. According to Melissa and Rob, the approximate earnings are $500–2,500 per month during the first year.
Melissa and Rob created a free workshop where you can learn how to start a profitable reselling business, like they did, in as little as fourteen days.
You will also learn how flipping items for profit could change your lifestyle and financial security, Melissa and Rob's three secrets to help you grow your profit, and much more.
You can register for this free workshop here.
RelatedF: How to Make Money Flipping Items (a full interview with Melissa)
9. Teach English Online
These days, one field that is very popular and growing fast is teaching English online as a second language. Some of the benefits this work-from-home job provides are a flexible schedule, gaining valuable experience, and zero commuting.
Teaching English online could be a great way to make money at home—especially if you love kids.
The pay for online teachers depends on the company you work for. The companies offering online teaching services usually offer base pay plus bonuses. The average pay for online teachers and tutors is $14–22 per hour.
If you want to know how to become an online English teacher and work from home, I highly recommend VIPKID. VIPKID provides online teaching services and is currently hiring English-speaking teachers to teach English online to children in China from ages five to twelve.
With VIPKID, you can earn up to $22 per hour working from home, and don't worry, you don't need to have an English degree
Here are some of the requirements to become an Online English teacher for VIPKID:
Bachelor's degree in any field
Any formal or informal teaching experience, such as homeschooling, mentoring, tutoring, coaching, or alternative education
Eligibility to work in the US or Canada
If this stay at home mom job sounds interesting, click here to apply for VIPKID and become an online English teacher.
10. Be Social Media Manager
If you find yourself on social media often, consider working for businesses as a social media manager. This particular field is growing fast and is in high demand. The best part is that it can be done by working from home.
Many local or small businesses do not have the time to manage their social media accounts with updates or by responding to inquiries or messages from customers. This lack of time is the main reason why many businesses look to hire people who can be dedicated to managing their social accounts.
Depending on experience, social media managers can earn from $15 to $45 per hour.
If you are ready to become a stay-at-home mom who works as a social media manager, then one simple way to start getting clients is by going to small, local businesses in your area.
Create a social media plan for them and present the type of work you will be able to do. Some businesses may not be interested yet, but you can certainly find others who will be willing to hire you to get more exposure for their business online.
11. Open a Store on Etsy
Selling products on Etsy has become very popular, and thousands of stay-at-home moms use it to make money selling their products from home. With over thirty million active buyers, it's not hard to find buyers on Etsy for your products.
Etsy is one of the world's largest online marketplaces where you can sell crafts or digital products. If you have a crafty talent, why not take advantage of it and sell your skills?
The income varies depending on the products or services you sell.
If you know what kind of product you would like to sell, then you can easily open a store and sell your skills or products through Etsy.
12. Open an At-Home Childcare
If you love working with kids, why not offer your services as a childcare provider? Opening an at-home daycare could give you great flexibility while taking care of your own kids at home. Besides, your kids will have the opportunity to make new friends and socialize more.
The amount you make will vary, but you can expect to earn approximately $650 a month per child. This amount could also vary depending on your location and the state you live.
First, check your state laws and regulations to determine the required documentation for home daycares.
If setting up a home daycare isn't an option, you could offer your childcare services through professional sites such as Care.com, where you can set up a profile advertising your services to parents looking for individual childcare services.
13. Become a Graphic Designer
Almost every business or company out there needs a graphic designer these days. Graphic design is one of the best flexible stay-at-home jobs for moms because the work can be done 100% online.
Depending on your experience, the rate is approximately $15–100 per hour. It is also common to charge a fixed price for a specific project.
Graphic designers work with computer software to help them create different products, such as logos, brochures, websites, flyers, and ads.
To help you create and design these types of products, you'll need to know how to use programs such as Photoshop, Illustrator, InDesign, or Corel Draw.
If you don't have experience with any graphic design software, I highly recommend taking a basic course, such as an Intro to Photoshop course. Doing so will help you a lot with designing different products.
14. Do Freelance Online Jobs
If you have skills in graphics and design, writing, translations, editing, and more, you could offer your freelance services online. Upwork and Fiverr are great places to offer your freelance skills while working from home. Your income will vary depending on your skills and the type of job.
As mentioned above, you can start searching for freelance jobs on places like Upwork or Fiverr—it all depends on the skills you have to offer.
Personally, I like Fiverr because you can sell and buy freelance work and get paid on time. Fiverr usually charges a small commission for providing the platform. However, one important thing to consider as a freelancer on Fiverr is the time you spend on each project.
Keep in mind that buyers usually expect their projects to be delivered on time, so consider taking only the jobs you feel comfortable doing and can do constantly.
15. Become a Search Engine Evaluator
Being a search engine evaluator is a great work-at-home job for moms to make extra money. This job has many benefits and doesn't require you to be on the phone at all.
As a search engine evaluator, you will make sure that the results from search engines are relevant to the searched keywords and spam-free. You can expect to earn $12–15 per hour.
As mentioned above, being a search engine evaluator can be one of the most flexible work-from-home jobs for moms. It allows you to work part-time by setting your own schedule.
Companies like Appen and Lionbridge are good places to start looking jobs in this field.
16. Be a Customer Service Representative
Customer service is a field that is growing fast. Almost every company outsources their customer service to provide information or help to customers.
The pay depends on the company and the experience that you have. According to Glassdoor, the reported pay for this position ranges from $10 to $18 per hour.
You will need to get familiar with the company you're working for to provide the best customer service experience to customers. Companies also tend to offer different shifts for this position, so you can choose the one that works with your schedule.
Most companies require a high school diploma or equivalent to get started. But, if you already have previous experience, you could be a suitable candidate for this type of job regardless.
You can find jobs in this area by simply searching for remote or work-from-home customer service jobs on sites like Flexjobs, Glassdoor, Indeed, or Amazon
17. Become a Travel Agent
If you love to travel and don't mind helping others plan their dream vacations, then working from home as a travel agent could be a great opportunity.
Lots of people find the process of booking a trip or a complete vacation too complicated or simply do not have the time to make all the necessary arrangements. Here is where travel agents are necessary— they help customers book a trip.
According to the Bureau of Labor Statistics, the median pay for travel agents was $38,700 per year in 2018. However, the pay depends on whether you are working independently or for a company and the level of experience you have.
As mentioned above, you can work independently as a travel agent and earn a commission for every sale you make, or you can opt to work for a company and earn base pay.
Host Agency Reviews is a great place to start collecting information on how to become a travel agent. You will also find reviews of hundreds of host agencies. You can also check out this e-book, where you will learn helpful information about how to start your own travel business.
18. Become a Data Entry Clerk
Data entry jobs require you to follow directions according to each task. For this type of job, you will input data from a specific source.
Pay varies by company and the type of job you perform. You don't need to have special skills or experience in the field, and the great thing is that this job can be done completely from home.
To work from home as a data entry field, start by looking for remote data entry positions on sites like FlexJobs or Indeed. You can also try SIGTRACK, which is a company that connects applicants with data entry positions across the country.
19. Work as a Brand Ambassador
Brand ambassadors represent a brand and interact with current or future customers by showing or talking about products or services on social media. For this type of job, the brand will have standards and monthly goals that you must meet every month.
This job is great for moms because you can work around your life with a flexible schedule and work from home.
The pay varies depending on the product or service you are promoting. According to ZipRecruiter, the average national pay for brand ambassadors is $35,7000 per year or $17 per hour.
There are many ways to get started as a brand ambassador. For instance, if you are on social media, places like Instagram are great for finding jobs in this field.
Also, websites like Indeed are full of job opportunities for brand ambassadors. You can also go directly to a specific brand's website and look around in the Careers section.
20. Provide Online Coaching
Coaches help clients develop a structured plan and assist them with achieving a specific goal. To perform this job, you'll use internet-based communication tools such as Skype or Facetime to communicate with clients.
There are different types of online coaching, such as health and fitness or life and personal development, to name a few.
To be successful in this field, you must choose an area that you are comfortable with and passionate about so that you can build strong relationships with clients and help them with their needs.
These days, online coaching is an industry that is growing rapidly. The pay will depend on the type of coaching you offer and the experience you have. The average yearly pay for online coaches is over $56,000 or $27 per hour.
To succeed in the online coaching industry, you will need more than just passion and knowledge. You will also need to implement a business strategy, which could include how to retain and find more clients for your online coaching business.
If you need more information, check out this book that can help you work from home and make money as an online coach.
21. Offer Photography Services
If you love capturing moments with your camera, why not make a living of the pictures you take? Although using a good camera is recommended for this, you can definitely use your phone and make money selling photos online from home.
The amount you'll make depends on the number of pictures you upload to the sites you partner with. Additionally, you will get paid when your photos are downloaded by clients.
Make sure you have a professional camera with a great resolution. You can also use your smartphone, but it would be better to offer pictures with the best quality.
Many companies pay photographers for using their photos on their websites and selling them to the public. To start selling your photos, try websites like Shutterstock or iStock Photo, which are very popular for in this field.
As a photographer, you can also offer your services for social events or special occasions. This job could become a great career for stay at home moms.
Other Jobs for Stay-at-Home Moms
If you made it to this point, you now have an idea of the best stay-at-home mom jobs to make money.
But if you just want to earn some quick cash on the side, below are plenty of opportunities that will help you achieve this goal. These jobs for stay-at-home moms won't make you rich, but they offer a variety of ways to bring some extra cash home.
Join Market Research Companies
Market research companies gather information about consumers' thoughts regarding a product, brand, or service. They work with paid online survey companies to conduct their research.
You can sign up for different survey companies to participate in these market studies and earn cash at the same time.
This option is a quick and easy way to make money from home—just answer questions in a survey and get paid for that! The payment method is cash via PayPal or rewards that could also be exchanged for cash.
Below are three of the best companies I highly recommend. They are 100% legit and pay fast.
Survey Junkie
Survey Junkie is the first company I recommend applying for to make money ASAP. As soon as you sign up, there will be surveys available for you to make some extra cash on the side.
What distinguishes Survey Junkie from other survey companies is that its members earn money from every survey they take. Even if you do not qualify for a specific survey that you started, you'll still earn cash for your time and effort.
You will earn points for every single survey you take on Survey Junkie. You usually see how many points you are awarded for each survey and the approximate time it will take to complete it. All your accumulated points are exchanged for real cash via PayPal or through gift cards if you so choose.
It is good to note that although this is not a regular full-time or part-time stay at home job for moms to make a full-time income, Survey Junkie can help you save for your holiday purchases or even pay your monthly credit card bill.
You can sign up for Survey Junkie and start making money here.
Swagbucks
Swagbucks is another great company you can join and get paid for completing different tasks. It not only pays you for completing surveys, but also for doing things like watching short videos, searching the web, reading emails, or shopping online. You also get a free $10 welcome bonus just for signing up!
What I like about Swagbucks is that you have a variety of options to start earning money. Like Survey Junkie, you accumulate points for completing each task, and these points can be redeemed for cash or gift cards.
Sign up here for Swagbucks and get a free $5 welcome bonus.
Springboard America
Springboard America is a survey site that offers great payout rates. What I like about the company is that it pays real cash in exchange for your opinion about a product or service. Here, you don't accumulate points—all the survey rewards are represented in dollar value.
The only negative thing is that the surveys are limited, and membership is only available to USA residents. However, once you get in, you will enjoy the opportunity to make real cash from short surveys, which is a great way to make extra income working from home.
Click here to join Springboard America.
Get Money Back from Your Groceries
Did you know that you can make money from your purchases? Ibotta is a free app that allows you to get cash back on your everyday purchases, and it can really help you to save a lot of money.
You can earn money for buying everyday items, such as bread, milk, fruit, and vegetables—things you will normally buy at the grocery store. You can even earn cash back just for submitting a receipt!
Here is how it works:
Select your favorite store and add the offers or savings for products you are interested in.
Go to the store and purchase your selected items as you normally would, and don't forget your receipt!
Scan or take a picture of your receipt, submit it, and earn cash back immediately.
I use Ibotta every time I do my groceries, and it was a game changer for me. There were times that I was able to get around $300 just from using the app and recommending it to friends.
All your accumulated cash can be transferred to your PayPal or Venmo account, or you can exchange it for gift cards from your favorite stores.
To start earning with Ibotta, sign up here and get a free $10 welcome bonus.
Use Rakuten
If you do some online shopping and you aren't using Rakuten, then you are leaving money on the table! Rakuten is a shopping website that helps you earn cash back (a.k.a., free money!) for purchases you make online.
Making money with Rakuten is simple. Here is how it works:
Sign up for a free account by downloading the app here.
Once you are in the app, select the store you'd like to buy from. This will direct you to the store's website.
Shop as you normally would, and after your purchase is completed, your cashback will be added to your Rakuten account instantly.
Bonus: After you sign up with Rakuten and spending your first $25, you will receive a $10 Rakuten cash bonus or a free $10 Walmart gift card.
The free gift card is usually a one-time opportunity, but if you would like to know how to earn free gift cards, make sure to read my post about it.
Sign up here for Rakuten and get a free $10 Welcome Bonus.
Final Thoughts: The Best Stay-at-Home Mom Jobs
As you can see, there are many part-time and full-time jobs that can eventually turn into careers for stay-at-home moms. The amount of income you will make it truly depends on the time and effort you are willing to put.
Hopefully, this ultimate guide to jobs for stay-at-home moms can serve you as a great source and reassure you that it is possible to start a new journey working from home.
If you found this content helpful and know someone who could benefit from it, please share it! Maybe there is someone you know who will love to know how to make money as a stay-at-home mom.
If you would like more information on other ways to make extra money, we have many articles that can help everyone like online jobs for students, how to make $200 in a day, money-making apps and more.
Also, don't forget to subscribe to the mailing list and get the latest articles on how to make money from home and ways to save more money.
Do you know any other stay-at-home mom jobs that are not on this list? Please share them in the comments below!
Related stay-at-home mom jobs articles:
21+ Work From Home Jobs For Moms That Pay Well (The Ultimate Guide)