Living paycheck-to-paycheck and stretching that last dollar to make ends meet carries a lot of financial stress and concerns for many families these days.
In fact, according to a 2016 survey by careerbuilder.com, almost 75% of the American population lives paycheck-to-paycheck.
When you live paycheck to paycheck, it can be really hard to set money aside to cover those unexpected financial expenses.
It can be tough to save money when you are hardly making enough to pay the rent/mortgage, utilities, or your car loan.
(This post may contain affiliate links. That means if you purchase an item through these links, I may earn a commission at no additional cost to you. Please read the full disclosure policy for more info.)
How Do You Stop Living Paycheck to Paycheck?
The simple thought of setting aside $1,000 for an emergency fund could be unrealistic, and often, it never happens.
Here is the thing, if you really want to stop living paycheck to paycheck you should consider starting saving money so you can start achieving your financial goals.
Saving money could help you pay off your debt faster, develop better financial habits, become financially independent, and many other things.
Recommended articles:
Here are some ways that will help you save money and stop living paycheck-to-paycheck.
How to Start Saving Money When Living Paycheck-to-Paycheck
1. Set a Budget
This is the first step you should follow before you start saving money. You need to know where your money is going, and a budget could help with that. Knowing exactly where your money comes from and goes every week or month will give you a good understanding of your financial habits.
When you keep track of all your expenses and income, you will develop a good sense of your financial patterns with time. By understanding this important concept, you will be able to make better financial choices in the future.
Related posts:
2. Reduce Your Expenses
Once your budget is set with all your monthly income and expenses, select which bills or expenses can be reduced. I know it may be difficult at the beginning because you might think you really "need" that service. However, by getting rid of or replacing some services you will have the opportunity to save some money by the end of the month.
For instance, some big monthly expenses that could take a big part of your income are cable TV and cell phone services.
The average monthly bill for cable TV is around $103 per month, which it makes up $1,236 per year! That is a lot of money for what you actually get.
There are other cheaper alternatives to cable or satellite TV. You could opt for a digital antenna like this one, you can watch local channels for free! In addition to all the free channels, you will also have the opportunity to enjoy HDTV shows.
Regarding your cell phone bill, just think about it, Do you really need all those unlimited minutes or data? Sometimes those free minutes or data mean more money towards your monthly bill.
Try to switch to a cheaper service such as Republic Wireless. With Republic Wireless, you could get a monthly cell phone plan for as low as $15 per month! Reducing your monthly cell phone bill will definitely add more money to your savings. You can learn more about Republic Wireless here.
Related posts:
3. Save Money on Your Groceries
Without a doubt, your groceries take up a big part of your budget, and there is no way you can eliminate this expense. Take advantage of Ibotta, which is a free app that allows you to get cash back on groceries, clothing, restaurants, gas stations, pharmacies and more.
When you buy your groceries, you earn cash back with Ibotta from your regular purchases at the store, such as buying fruits, vegetables, dairy, bread, household items, and so on. You can even get cash back just for submitting your grocery receipt!
Last month, I withdrew $200 from my Ibotta account. It took me a couple of months to get to this amount, but I know for sure that it will help with some expenses at home.
Bonus: If you're new to Ibotta, you can get $10 FREE by just signing up through this link.
Go over each category in your budget and try to find ways to reduce your monthly bills. Even if it is $10 or $20 per month, it will add up quickly. The idea here is to cut back on every category of your budget so that it will be easier for you to spend less and, therefore, save more money.
Related: 11 Ways to Save Money on Groceries Without Coupons
4. Set an Automated Transfer
If you receive your paycheck through direct deposit, then try to set an automated transfer to a savings account. You can begin with $25 per paycheck and increase the amount as you are able. By doing so, you will notice the increase in your savings accounts in no time. You can use this money to pay off debts or build a much-needed emergency fund.
An emergency fund is crucial for those unexpected circumstances in life. A good amount to aim for is a $1,000 in your emergency fund, but you can make this a lower amount, such as $500. The point is to begin the habit of saving money and, more importantly, avoid touching this money.
Related: How to Build an Emergency Fund and Save Your First $1,000 Fast
5. Make Extra Money
Earning extra money could help you put money into your savings account faster than you'd think. To do this, you need to know some available options that will allow you to earn extra income. The extra income you make can be used to pay off debts such as credit cards, loans, rent or mortgage.
You don't have to think hard about this because there are many ways you can earn extra money.
Here are some ways to make extra money and end that never-ending cycle of living paycheck-to-paycheck:
Answering Surveys:
Taking surveys is one of the most common ways to make extra money. There are many legitimate and trustworthy survey companies out there that will pay you for your opinion.
You could early extra cash for doing a fairly easy task such as answering surveys, reading emails, watching videos, or playing games. Most survey companies have a similar way that you can earn extra money.
They will usually pay you in gift cards like Target, Amazon, Walmart, and PayPal. The majority of survey sites are free to join and easy to use. Also, it is best to sign up for more than one survey site.
Each company may send only a specific number of surveys that you might qualify for, so the more survey sites you sign up the more money you are able to make.
These are some great survey companies I recommend:
Survey Junkie
Survey Junkie is the fastest and easiest way to start making money fast! Personally, my experience with Survey Junkie has been the best. After signing up they send to your inbox all the qualifying surveys so you can start earning money right away!
Survey Junkie offers excellent payouts to its members and they pay via PayPal! The best part is that it is free and easy to use!

Click here to sign up with Survey Junkie and start making money ASAP!
Swagbucks
Swagbucks is one of the best rewards program that gives you free gift cards or cash for basically doing things that you do every day online. I personally love Swagbucks because it allows me to make extra money every single month.
With Swagbucks, you earn Swagbucks points each time you answer surveys, search the web, answer daily polls, shop online, play games, watch entertainment videos and so much more!
You redeem your accumulated SB points and convert them into cash via Paypal or redeem gift cards for your favorite retailers such as Amazon or Walmart. Click here to sign up for Swagbucks and get $5 Welcome bonus FREE
MyPoints
My Points works very similarly to Swagbucks. I use it often because it's one of the best ways to earn free gift cards.
As its name suggest, MyPoints rewards you with points for doing simple tasks, such as reading emails, shopping online, taking surveys, watching videos, playing games, and much more. You have the option to redeem your accumulated points for gift cards, travel miles, Visa prepaid cards, or cash via PayPal.
I love the idea of getting a Visa prepaid card. It's so useful for anything you want!
Its minimum payout is $10, which is easy to reach with all the options you have.
You can also sign up here and receive a free $5 bonus after completing your fifth survey—no purchase necessary.
Right now, for a limited time, MyPoints is offering a free $10 Amazon gift card to anyone who signs up after spending $20.
Inbox Dollars
Inbox Dollars is another great survey site to make some extra money. Its system sends you all the qualifying surveys straight to your inbox. Just click the link, complete the survey, and make money.
Also, you will have the opportunity to make money by playing online games, reading emails, searching the web, shopping online, redeeming grocery coupons, and more! You accumulate points for each completed action and exchange your points for cash via PayPal or gift cards.
When you sign up for Inbox Dollars through this link, you will receive a free $5 signup bonus!
Start a Blog:
This is how I'm able to make money and help with my family 's finances. I started my blogging journey over a year ago, and it was one of the best decisions I made.
Currently, I make a full-time income with and it allows me to work from home around my schedule and spend more time with my family.
If you are interested in starting a blog, check out my FREE 5-day email course where I teach you all you need to know to start a money-making blog since day 1. You will learn all the necessary steps and tools needed to become a successful blogger and start making money from home.
Have a Garage Sale:
You can make some quick extra cash by getting rid of unused things around your house. Several years ago, I organized a garage sale, and I made almost $800! Just think about all that you can do with the amount of money you can earn by organizing a garage sale.
Become an Online English Teacher:
Magic Ears is a company based in China that provides English learning experience to children 5-12-years-old in China. They're currently hiring English speakers from the U.S. and Canada to teach English.
You don't need to have previous experience or hold a bachelor's degree to start working for Magic Ears. The company provides the curriculum, and the pay is up to $26 per hour.
If you'd like to become an online English teacher and work from home, click here to learn more about Magic Ears.
Saving Money when you are living paycheck-to-paycheck could sound like a difficult task. However, it doesn't have to be that way. Take this guide as an initial step to break that vicious cycle so you can stop living paycheck-to-paycheck once and for all!
Recommended articles about Making Money:
Like This Post? Pin It!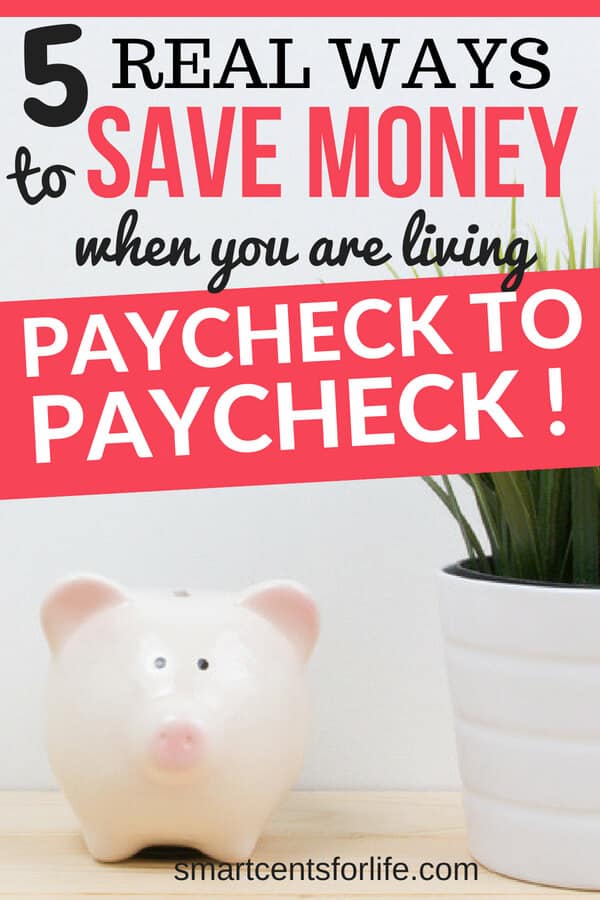 Join my EXCLUSIVE email list and learn tips on how to make, save and manage your money better!